Hazel-Ann McLean made history in Trinidad and Tobago as the first female enrolled in an all-male high school on a full-time basis. She did this when she enrolled at QRC, a premiere institution that boasts alumni such as the first prime minister of Trinidad and Tobago. The author currently lives in Pittsburgh, Pennsylvania with her two children.

Don't miss out: McLean will be discussing A Sparkle of Royal Blue at Barnes & Noble @ The Waterworks on September 23!

From the publisher: "Hazel-Ann McLean's pioneering and monumental experience started on her very first day at Queen's Royal College, when she learned that one of the most senior teachers at the school had challenged her enrollment and insisted that QRC was only for boys. A short trip to the Ministry of Education confirmed that the school's charter didn't mention "boys," only "students." She was escorted back to class by the dean of the school, having overcome her first of many challenges attending QRC. Her first step opened the door for dozens more girls to attend QRC and other all-male colleges in Trinidad.

As her schooling continues, Hazel-Ann is initially amazed at the camaraderie and mutual expectations of respect that both the students and teachers share. Her scholastic/holistic education at St. Francois Girls' College, her all-female high school, along with her home life shaped her ability to navigate the rich history, culture, and legacy of QRC.

She walks readers through a series of whimsical experiences that offer both obstacles and triumphs to this teenage girl faced with functioning on her own in a school of 600-plus boys. Ultimately, her book documents the lessons she learned at QRC that have carried her through her own professional and personal life.."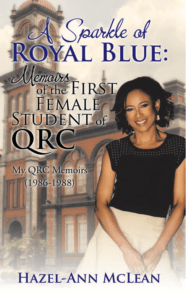 I applied to my school – St Francois Girls' College – and was immediately accepted. I attended classes the first two days, only to find out that I was the only student willing to do physics at A-level. My principal, saying that it was a waste of the teacher's resources to teach only one student A-level physics, suggested that I attend QRC for my physics classes and return to St Francois for my other classes. This was the similar model followed by other male/female paired high schools. QRC's timetable, however, was a rotating one. That is, it was a six-day schedule, so I would not be able to attend physics class every Monday, for example, as my class may fall on a Tuesday or a Wednesday (or some other day), so logistically this would not work.
Well, I was determined to take physics, so we tried another advanced-level school – the sixth form secondary school – only to be told we were too late, as all spaces were filled. My mother then came up with the brilliant idea of my attending QRC on a full-time basis and receiving all of my education there. And so I ended up one Thursday afternoon being marched into QRC by my mother (hats off to all moms!) and speaking to Principal Winston Douglas and Dean Michael Lilla, who both thought it was an excellent idea. Mr Lilla in particular almost jumped with elation and excitement at the prospect. I remember Mr Douglas (whom we students referred to as "Dougie") looking at me very sceptically, though, and wondering if I would even make it past my first week. I sensed some doubt, but that made me even more determined. Mr. Lambert, another senior teacher at QRC, I believe was the one who finally convinced Mr. Douglas to give this a try.
There is something you have to understand about the fact that I was attending QRC full-time. QRC was the brother school to St Francois Girls' College at that time. It was not uncommon for girls to attend their school's brother school for A-level classes, such as with St Mary's College and St Joseph's Convent, two of the highest-ranked schools in the country. Both schools are located in downtown Port-of-Spain, the capital of Trinidad and Tobago. St Mary's College is an all-male high school, and St Joseph's Convent is an all-female high school. The difference at the time was that the two schools were across the street from each other, so the girls maintained their enrolment at the girls' high school, along with their uniform, friends, and so forth, but attended classes at the boys' school only for a period of time and for specific subjects. My attendance at QRC was to be different.
At QRC, I was expected to wear the boys' uniform, use bathrooms at the school (you'll learn about that later), be friends with the boys, and participate in all school activities like any other (male) student. So essentially, I am, as far as I know, the first girl in the history of Trinidad and Tobago to attend any all-male college on a full-time basis.
This is what I was agreeing to do, whether I understood what that meant or not. I really didn't. I was only thinking at the time of getting the chance to study physics at A-level. Which uniform I would wear, what bathroom I would use, and not having a single soul around me who looked like me, who thought like me, or who could help me through this never entered my mind. I was just determined to do it!
And so it all started. My mom and I discussed my uniform selection – skirt, pants, or culottes? Skirt, of course. Definitely a QRC shirt jacket with the emblem. My mom knew how to sew, so we promptly went downtown, purchased the necessary material, and made my A-line skirt – coming down to my calf, of course – and off I went the next day! My school uniform consisted of my skirt, a QRC shirt jacket, and for the first week of classes, two light blue ribbons in my hair. This last was my own personal touch – just to remind everyone that I was indeed a girl!
And so I started my education at QRC. I thought that I was going to get the opportunity to learn about physics at a school which was well-known for producing high-quality students. I had already interacted with Mr Lambert during my fifth form (grade ten), because I had visited QRC for lessons from him for a period of time. My education at QRC turned out to be much more than physics, chemistry, and mathematics, however. It ended up being a lifelong education/experience that has given me skills for living, for being comfortable in male-dominated environments, and for overcoming challenges that seem impossible. I wish that I had known back then what I was stepping up to, but to be honest, it wouldn't have changed a thing. I've become a more well-rounded woman because of my experiences at QRC.

This excerpt from A Sparkle of Royal Blue by Hazel-Ann McLean is published here courtesy of the author. It should not be reprinted without permission.