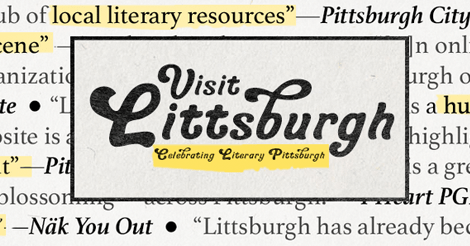 About
Littsburgh was inspired by Pittsburgh's rich literary tradition and its current dynamic literary scene.
So much is happening in our city—poetry readings, book signings, writing workshops, conferences, lectures—that Pittsburgh is becoming a true literary destination.
We want to help highlight these events, celebrate authors with strong ties to Pittsburgh, and foster connections among booksellers, publishers, reviewers, other publishing professionals, and of course, the readers who make it all possible.



Contact Us



Seen at Heinz Field:
Rachel Ekstrom Courage
Founder

Rachel Ekstrom Courage was born and raised in Pittsburgh, where she fell in love with the work of Margaret Hodges, Annie Dillard, and Michael Chabon. She worked for over a decade in the publicity departments of St. Martin's Press, Minotaur Books, and Penguin's Dutton and Gotham imprints and is now a literary agent at Folio Literary Management. www.rachelcourage.com

---

Seen at White Whale's Grand Opening:
Nick Courage
Co-Founder & Developer

Nick Courage is an author and publishing professional whose work has recently appeared in The Paris Review Daily, Story, Writer's Digest and Full Stop. Having spent over a decade promoting authors for New York publishing houses like Picador and Farrar, Straus, and Giroux, Nick now works as a publishing and book marketing consultant. His first novel, The Loudness, is available where books are sold… and his next book will be published by Delacorte Press (Random House Kids) in 2019! www.nickcourage.com

---

Seen at Crazy Mocha:
Katie Kurtzman
Publicity Director

Katie T. Kurtzman, a graduate of The University of Pittsburgh's Writing Program, has a decade of book publicity experience with top New York City-based publishing houses including Simon & Schuster, Penguin Young Readers, and Henry Holt. Most recently, she assumed a directorial role at literary powerhouse Farrar, Straus & Giroux. Active in the literary community, she is currently the Director of Media Relations, Sponsorships, and Program Development for Pittsburgh Arts & Lectures, a member of the Brooklyn Book Festival publicity committee, and runs her own publicity business, KTK Publicity.