By day, Jessica Strawser — a Pittsburgh native — is the Editorial Director of Writer's Digest magazine, North America's leading publication for aspiring and working writers since 1920. By night, she is a fiction writer with a debut novel, Almost Missed You, forthcoming in 2017 from St. Martin's Press and another stand-alone novel to follow in 2018.

In this excerpt from Almost Missed You, we find a man crafting a Craiglist's Missed Connections post in an attempt to reconnect with his future wife, Violet. This is years before he decides to abandon her (and kidnap their young son) while the three are enjoying a relaxing vacation in Florida…

Don't miss out: Strawser will be launching Almost Missed You at Penguin Bookshop on April 6th!

From the Publisher: "Violet and Finn were 'meant to be,' said everyone, always. They ended up together by the hands of fate aligning things just so. Three years into their marriage, they have a wonderful little boy, and as the three of them embark on their first vacation as a family, Violet can't help thinking that she can't believe her luck. Life is good.

So no one is more surprised than she when Finn leaves her at the beach―just packs up the hotel room and disappears. And takes their son with him. Violet is suddenly in her own worst nightmare, and faced with the knowledge that the man she's shared her life with, she never really knew at all.

Caitlin and Finn have been best friends since way back when, but when Finn shows up on Caitlin's doorstep with the son he's wanted for kidnapping, demands that she hide them from the authorities, and threatens to reveal a secret that could destroy her own family if she doesn't, Caitlin faces an impossible choice…"

"Almost Missed You is an emotional powerhouse of a novel, filled with complex relationships and difficult choices, the secrets we keep, and the lies we tell to those we love while hoping to shield them from harm. Strawser's tale of guilt, blame, redemption, and forgiveness is a must read for anyone who enjoys a well-told, compelling exploration of the human heart." —Garth Stein, New York Times bestselling author of The Art of Racing in the Rain and A Sudden Light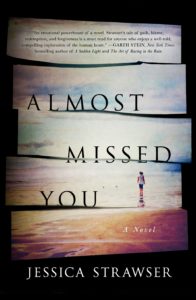 Finally, on a night when the rain pelted his windows in sheets and his beer tasted like liquid courage, Finn sat down at his computer and drafted a post.
You on the beach in the Camp Pickiwicki shirt: If you're reading this, the third coincidence is the charm. Care to pick up where fate left off? My name is Finn, by the way. It's pretty obvious by now that I should have told you that.
If he had posted that, just as it was, everything would have turned out differently.
But he didn't. And it didn't.
Because as he was about to click the post through, something held him back. The words had sounded right in his head. They sounded like him. But maybe his voice wouldn't come across onscreen. Maybe she'd think he was being flippant, more friendly than romantically interested, not as genuine as he felt. Maybe he should try to be a little more romantic, less open to interpretation. Besides, maybe those interns wouldn't forget to check. They'd spot his name right away. So he wrote instead:
If you are an attractive young woman who recently returned from a vacation during which you had a conversation with a stranger that ended rather abruptly, through extenuating circumstances beyond your or his control, causing that stranger to seriously question his mental wherewithal not to have gotten your name the first chance he got, then you might be the woman I can't stop thinking about, and I may be that stranger.
It wasn't the most natural-sounding thing in the world, but at least it was clear that he was being flirty, not interested in a brotherly sort of way.
He clicked Send; he told himself there was no possible way that she would see it anyway. He went to bed.
For the next seventy-two hours, he checked his in-box obsessively, keeping his smartphone on full volume so that he'd be sure not to miss the chime announcing the arrival of what could be the e-mail he was waiting for. Nothing. Each time he saw that it was empty, his heart sank a little. Why did his hopes always manage to get up even when he tried not to let them? And then, on the fourth day, he awoke to find, to his complete amazement, a brief message sent through the anonymous Craigslist server:
Okay, stranger, I'll bite. Let's see if I am your me and you are my you. Fountain Square, Saturday, 7:00?
From Almost Missed You by Jessica Strawser. Copyright (c) 2017 by the author and reprinted by permission of St. Martin's Press, LLC.