Sisters in Crime — "an international organization of lovers of the crime fiction and mystery genres: writers, readers, librarians, and booksellers" — is celebrating its 30th anniversary… and Pittsburgh's Mary Roberts Rinehart chapter of Sisters in Crime is celebrating with a salon reading at the City of Asylum bookstore at Alphabet City!

Gather to hear chapter members read aloud from works, answer questions and celebrate thirty years of Sisters in Crime! Light refreshments will be served. This event is open to the public, and mystery fans are encouraged to attend.

In anticipation of this celebration, Littsburgh asked the Pittsburgh chapter of Sisters in Crime to tell us a little bit more about themselves. For more information, visit their website… and be sure to follow Pittsburgh's Sisters in Crime chapter on Facebook and Twitter!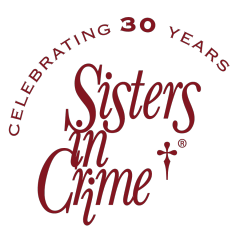 What is Sisters in Crime?
Sisters in Crime, Inc. ("SinC") is an international organization of lovers of the crime fiction and mystery genres: writers, readers, librarians, and booksellers. The mission statement is "to promote the ongoing advancement, recognition and professional development of women crime writers."
Sara Paretsky and the initial steering committee members Charlotte MacLeod, Kate Mattes, Betty Francis, Dorothy Salisbury David, Nancy Pickard and Susan Dunlap founded SinC in response to the awareness that women mystery writers were less likely to be reviewed or nominated for awards in comparison to male counterparts.
Now celebrating 30 years, SinC membership has grown by leaps and bounds to include over 50 chapters. Despite its name, SinC welcomes "Misters," too!
For more information about Pittsburgh's Mary Roberts Rhinehart Chapter of Sisters in Crime, visit www.pghsinc.com.
Who was Mary Roberts Rinehart?
Mary Roberts Rinehart was born in Allegheny City, Pennsylvania, in 1876, now part of Pittsburgh's North Shore. Known as the "American Agatha Christie," she started writing as a way to earn money after sustaining heavy losses in the 1903 stock market crash. Over her lengthy career, MRR wrote hundreds of plays, short stories, poems, travelogues, and articles, earning special praise for her mysteries.
She is credited with coining the phrase "the butler did it" with her book, The Door. In her novel The Circular Staircase she invented the "Had I But Known" school of mystery writing. SinC Pittsburgh is honored to have Mary Roberts Rinehart as our chapter namesake.
How important is it that Pittsburgh is a university town?
Pittsburgh hosts a vibrant core of literary appreciation and effort. Modern media seems surprised to discover this. They shouldn't be. In spite of its reputation as a rust belt steel mill town, the seeds of Pittsburgh's literary scene were planted generations ago.
Washington & Jefferson College was founded in 1781, when southwestern Pennsylvania sat perched on the edge of the raw colonial American frontier. The University of Pittsburgh followed in 1787. Chatham University, formerly the Pennsylvania Female College, was chartered in 1869 to provide women with an education comparable to "male colleges of the first class." Duquesne University joined the roster in 1878. Carnegie Mellon University followed in 1900. Carlow University joined the fold in 1929, La Roche College in 1963. The list goes on, and on. Successive waves of immigrants realized early on that education and literacy held the key to a better future for themselves, and for their children. If nothing else, we've got the stories.
Why should I attend the Sinc PGH Reading Salon?
Because you love mysteries, authors, and supporting the Pittsburgh literary scene! The City of Asylum Bookstore at Alphabet City is a fantastic new booklovers' venue and local resource. Salon readers are all local authors—published and unpublished—who will be sharing their work, many for the first time.
It's great time to be an author, a reader, and a Pittsburgher. Come help us celebrate!