Lesley Rains, founding owner of one of the major hubs of literary activity in our city, recently decided to pursue fresh bookish opportunities and find new owners for East End Book Exchange. Littsburgh talked with her about that decision in March, then joined the rest of Pittsburgh's literary community in daydreaming about handselling our favorite books on Liberty Avenue.
In the five years since Lesley started the East End Book Exchange, it's provided readers and writers a wonderfully curated place to shop for new and used books, as well as being the venue for countless events for local and touring authors, serendipitous meetings, and bookish conversation… and we were crossing our fingers, along with Lesley, that it would find the perfect new owner to carry the torch.
"All I wanted from this process was for East End Book Exchange to be left in good hands," Lesley explained, and when she told Littsburgh that the new owners would be Jill and Adlai Yeomans, we were so happy we cheered. "With their background in the book industry and strength of character," Lesley wrote, "Ad and Jill are the perfect pair to take the helm. I am absolutely confident that the EEBX's best days are ahead of it."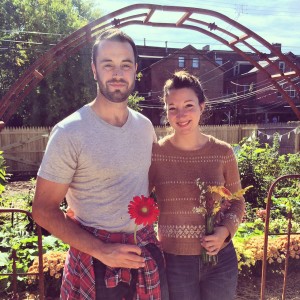 Jill and Adlai Yeomans met while working in editorial positions at Hachette Book Group in 2009. Jill previously held jobs in libraries and independent bookstores, while Adlai had interned in book marketing. Both had majored in creative writing in college and shared a lifelong love of reading. Together, they moved to Pittsburgh in 2012. Adlai began a new career in nonprofit work, teaching English as a Second Language to immigrants and refugees through AmeriCorps at the Greater Pittsburgh Literacy Council. Upon completion of his service, he joined the organization full-time, and has worked at GPLC for the past two years. Jill has been writing books for kids and young adults; she has a middle grade series, Unnaturals, with HarperCollins, and she has co-written teen novels with bestselling author James Patterson. Jill and Adlai fantasized about one day owning a bookstore, and are thrilled to be given the opportunity in a city they've come to love so much.
Littsburgh wishes Lesley the best as she moves on to her new role managing the bookstore at City of Asylum/Alphabet City on the North Side, which we're extremely excited about… it opens this September!
Get to know the new owners of East End Book Exchange!:

When did you know you wanted to own a bookstore?

Jill & Adlai: Last week! Well, we've always talked about it as a vague, wonderful idea that we'd love to try later in life. But there's a difference between dreaming out loud over beers and actually quitting your job and forking over your savings.

How did you decide to buy EEBX?

Jill & Adlai: It was very fortuitous. We're friends with Lesley and have always loved the store, and it happened to go up for sale when we were already having big conversations about our life goals and plans to stay rooted in Pittsburgh.

What are your plans for the store?

Jill & Adlai: It's important to us that the store stay open during the transition of ownership. Lesley has built a great foundation and community around East End Book Exchange, and we want to honor that. We'll keep things running as they are for awhile before making any abrupt changes. We have especially loved attending author readings and book launches at EEBX. We'll definitely continue that tradition, and ideally even expand our events calendar further. Then, later this year, with input from our patrons, we plan to relaunch with a focus on new titles.

What are you most looking forward to about this new adventure?

Adlai: One of my favorite feelings in the world is recommending a book to someone and having them come back and say they loved it (there's probably a German word for this). I just want to have that feeling on a daily basis.

Jill: Being surrounded by book-smell all day long. I'm not even kidding.

What are some of your favorite things about Pittsburgh?

Jill: I'm from the Midwest, so it's great to be back in a place where people stop to chat–in the grocery store, in the middle of the street, in the checkout line (in the bookstore!). Pittsburgh's a pretty good size city, but we felt like we had a community here almost immediately, because everyone is just so dang friendly and eager to connect you with everyone else they know.

Adlai: I've never lived anywhere that's fit me better than here. The list of things that makes this city great is far too long, so I'll just give you my top two words: Banjo. Night.

What recent favorites are you looking forward to recommending at EEBX?

Adlai: I'm a year late to the party, but my pick is A Manual for Cleaning Women. They're the best short stories I've ever read–and I say this without fear of hyperbole. I'm going to continue shouting Lucia Berlin's praises until everyone I know has read her.

Jill: Ad stole my answer. We just got into a fight over who got to rep Lucia Berlin. I'm also high on Jesse Ball at the moment. I loved Silence Once Begun, and I just finished his latest, A Cure for Suicide, which is equally inventive and gorgeously written. And since my background is in kids' books, I'm really looking forward to expanding our children's section as well. Two new books that I'm excited about are The Wild Robot by Peter Brown and The Last Boy and Girl in the World by Siobhan Vivian. I should disclose that both authors are friends of mine, but it's my good fortune to know such brilliant people. If owning a bookstore means we get to meet more awesomely talented folks on a regular basis, I don't see how we could go wrong.

Please join Littsburgh in welcoming Jill and Adlai to East End Book Exchange — and in thanking Lesley for all she's done for literary Pittsburgh!