From the Publisher: "When Miss Norma was diagnosed with uterine cancer, she was advised to undergo surgery, radiation, and chemotherapy. But instead of confining herself to a hospital bed for what could be her last stay, Miss Norma—newly widowed after nearly seven decades of marriage—rose to her full height of five feet and told her doctor, 'I'm ninety years old. I'm hitting the road.'

Infused with this irrepressible nonagenarian's wisdom, courage, and generous spirit, Driving Miss Norma is the charming, infectiously joyous chronicle of their experiences on the road. It portrays a transformative journey of living life on your own terms that shows us that it is never too late to begin an adventure, inspire hope, or become a trailblazer."

Don't miss out: On July 11th, authors Tim Bauerschmidt and Ramie Liddle (a Zelienople, PA native) will be visiting The Strand Theater in Zelienople, PA to share stories of their year on the road in a motor home with Tim's 90-year-old mom, Norma.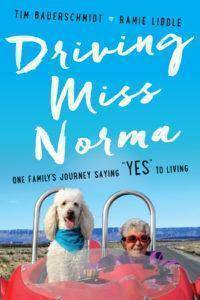 We never even had time to unhitch our Airstream from the truck. Three days after we had pulled into the driveway, Leo lay on his side in the fetal position in a hospital bed, his organs failing. The Fentanyl patches he was using to control his unbearable back pain—the result of what we eventually learned was a compression fracture—apparently pushed his body chemistry out of whack, and the doctors could not bring it back to order. He appeared so uncomfortable and alone. Norma was smaller than she had ever looked, dwarfed by the reclining hospital chair next to Leo's bed. She was silent.
Tim crawled into bed with his dad, spooning him. I handed him a damp cloth, and he used it to gently wipe Leo's brow. Repeatedly, Tim told him, "It's okay, I'm going to take care of Mom. I love you. Everything is going to be okay."
After some time, Tim took a break and I crawled into the bed with Leo. We did this off and on that morning until Norma whispered to me, "Can you take me downstairs? I have an appointment at one o'clock for some tests."
I had no idea what the tests were for. In the elevator on the way down, she mentioned she had had some blood in her urine. I suspected there was more to it than that because I also noticed the sanitary pads tucked in her purse. Clearly she was bleeding, and having reached menopause decades before, she should not have been. I stayed in the waiting room, and when she emerged from her tests, we returned to Leo's room. Norma made no mention of the procedure. In that moment our priority was Leo, so Tim and I did not push the issue with her.
As the week progressed, we learned that Norma needed follow- up testing, including a transvaginal ultrasound. With her husband dying just a couple of floors above her in the hospital's hospice wing, Norma lay on a paper-covered table while a technician inserted an ultrasound wand. Her entire body seemed to contract inward. She was small, and humiliated. I stood near the technician and watched as she circled the display screen over and over again with a stylus and saw what looked to be a large mass on Norma's uterus. "Unbelievable," I murmured to myself. Here Leo was dying, and from what I was seeing on the screen, Norma had something that looked like a tumor. From her vantage point, Norma could not see what was going on and was unaware of what I had just seen.
I took a deep breath before I told Tim what had appeared on the monitor that afternoon.
Leo was soon transferred to a hospice room in a local nursing home. Two days later, after we had sat at his bedside for six hours, an exhausted Norma insisted that he was well taken care of by his faith. "We can leave now," she said. We all left knowing that this warm July day would be Leo's last. No sooner had we returned home than we got a call from hospice telling us that he had died at 5:50 p.m. Right at that moment, a broken ship's clock—a gift to Leo from Stacy—started ticking again.
We had Leo's remains cremated, and we buried his urn next to Stacy's in the family plot a few paces from Uncle Ralph at the township cemetery. We were in shock and grieving.
It was not yet official, but Tim and I also knew in our hearts that Norma likely had cancer. As we lay in bed in the Airstream, we talked about our options. Neither of us wanted the same ending for Norma as we had seen Leo experience. His last days in a busy, noisy hospital were far from pleasant. In fact, they were excruciating for him. We both worried about what would happen if Norma went into a nursing home. She loved being Driving Miss Norma outdoors. How would she exist inside a facility with a locked front door that required a code to get out? How could this very shy woman ever share a room with a stranger? We had seen the institutional food served in many of these places. There was no assurance she would have the quality or variety of life she was used to, nor the independence or anything that was familiar to her. Our intuition told us that Norma not only needed but also deserved freedom, autonomy, and dignity, and to us, the nursing homes we had access to represented the opposite of those values.
If Norma wanted to kick back at the end of the day with a beer or a glass of wine, we wanted her to have that luxury. If she wanted to leave the facility for any reason, we wanted her to be able to do it. If she wanted to eat breakfast for dinner or walk barefoot in the grass, so be it. We also wanted her to have the chance to smile again.
We looked at each other and, simultaneously, we said, "We need to see if she wants to come along."
We had no idea what we would do if she said "Yes."
+ + +
The following day, the three of us sat down at the kitchen table to have some lunch.
"Norma, we don't know what the doctor is going to say about all the tests they have been doing," I said between bites, "but I'm wondering how you are feeling about how you might take care of yourself now that Leo is gone."
"I don't know what to do," she said, sounding feebler with each word. "I can't live here by myself. I know that."
Tim chimed in, "Well, Ramie and I have been talking about that too, and we wouldn't feel good about you staying here by yourself even if you had people helping you. We looked into homes and we can get you on a list either here or where Ramie's mom lives in Pennsylvania.
"Or, we were thinking," he continued, "if you would like to live with us on the road, we could get a bigger RV."
"While coming with us might seem like a crazy idea," I interjected, "it's no crazier than spending the rest of your days in a nursing home. If you want to come, we'll take you anywhere you want to go."
We told her she did not have to give us an answer right away. "Just think about it," we said.
We continued to eat our ham-salad sandwiches without conversation.
The next person to speak was Norma. She quietly said, "I think I'd like to come along."
The next morning, we sat crammed in a small examination room with a gynecologist and a medical student shadowing him. We had spent the past two days after Leo's death moving from doctor to doctor and from test to test. The ob-gyn was the last one to see.
A handsome man in his thirties, the doctor told us what we already knew: Norma had a cancerous mass on her uterus. From his perch on the edge of the exam table, he looked down at Norma, who was sitting in a hospital wheelchair, and then launched into an assumed close: "So we're going to schedule you for a hysterectomy, then radiation and chemotherapy. You will recover in a rehabilitation facility, and it will likely take a few months to heal."
Although he gave Norma no other options, he finished by asking what she would like to do. She locked eyes with him and, with as much conviction as she could muster, said, "I'm ninety years old. I'm hitting the road."
With good reason, the doctor appeared confused. Tim explained that we lived on the road in an RV and that we planned to take Norma along with us for as long as she was interested and physically able.
The doctor's demeanor shifted instantly. He lit up. The medical student seemed amazed—this response was probably not what she had expected from this tiny old woman.
"Are we being irresponsible?" Tim asked. "This approach seems perfectly natural to us, but we don't always live within the rules. What do you think?"
"No," the doctor said, "it is not irresponsible. There's no guarantee that at her age she'd survive the surgery. If she did, she would be in intensive care and dealing with miserable side effects. As doctors, we see the other side of this every day. If it were me in this situation, I'd want to be in that motor home."
"Right on," Tim and I replied.
We had a lot to accomplish in order to fulfill our promise to take Norma on one last adventure. To begin with, we had no idea how long this adventure would last or even where it would take us. But we knew that we had to try.
Excerpted from Driving Miss Norma by Tim Bauerschmidt and Ramie Liddle with permission by HarperOne, an imprint of HarperCollins Publishers. Copyright 2017.