After reading this excerpt from Amy Jo Burns' Cinderland — "a stop-time portrait of girlhood that explores how one little lie can change everything, resounding with images of fire, steel and the skeletons of a Rust Belt steel town in decline" — we had to find out what her answers would be to the Littsburgh Questionnaire!

Those answers are below, and if you haven't already: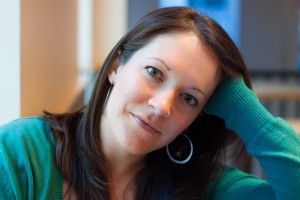 What comes to mind when you think of Pittsburgh?
I think of my father repairing the rooftops of the skyline and my grandfather fixing the kilns in the bowels of all the old factories. They've both witnessed Pittsburgh grow and shift and change from beneath the city and above it.
What books are on your nightstand?
Girls on Fire by Robin Wasserman, The Cook-Up by D. Watkins, and The After Party by Anton DiSclafani.
Is there a book you'd like to see made into a film?
Donna Tartt's The Goldfinch, hands down.
Who would you most want to share a plate of pierogis with?
Definitely Andrew Carnegie. I have my grandfather's first edition copy of Carnegie's autobiography, and I'd love to talk to him about the process of writing it.