Sandcastle has barely been closed a week and it's official: summer's over. We're wearing hoodies and sweaters and looking forward to all of the excellent books publishing this fall (traditionally, publishing's busy season). So here are some of the books we're planning on pairing with hot apple cider and pumpkin-spiced everything this October — and we asked Pittsburgh's indie booksellers for their picks as well!

Some are not yet published, some are recently published and already hanging out at the top of our to-read piles, and some have been hanging out at the top of that to-read pile for a while now… but don't judge! These are all excellent books to spend some quality time with this fall.

Note: Books that are listed without publication dates are now available where books are sold (we recommend stopping by your favorite local indie)!

Part Two

As always, if you're looking for something to read right now, we have a growing library of excerpts by local and visiting authors right here on Littsburgh!

A huge thanks to City Books, Mystery Lovers, City of Asylum Books at Alphabet City, Classic Lines, White Whale Bookstore, Nine Stories, and Penguin Bookshop for sharing their fall picks… and let us know what you're looking forward to reading on Facebook and Twitter!
Rachel Ekstrom Courage, Founder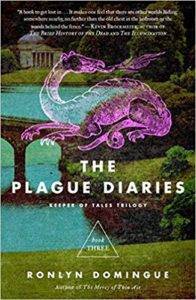 The Plague Diaries by Ronlyn Domingue
The Plague Diaries is the third in the beautifully-written Keeper of the Tales trilogy and I am so excited to be swept away in this world. If you haven't yet read The Mapmaker's War and The Chronicle of Secret Riven, get thee to a bookstore!
"The Plague Diaries gives readers the ultimate experience–a uniquely gifted heroine, a mystery that unravels with spellbinding intrigue, and an escape into a world lush with magical detail. Readers searching for a finely written and compelling genre-bender of a novel, here it is. Enjoy." – Julia Fierro, author of The Gypsy Moth Summer
---
It's nearly been a year since the election. Very curious to read and discuss these two: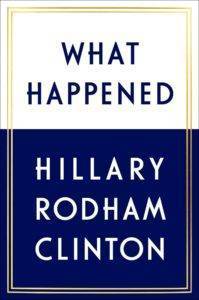 What Happened by Hillary Rodham Clinton
From the publisher: "For the first time, Hillary Rodham Clinton reveals what she was thinking and feeling during one of the most controversial and unpredictable presidential elections in history. Now free from the constraints of running, Hillary takes you inside the intense personal experience of becoming the first woman nominated for president by a major party in an election marked by rage, sexism, exhilarating highs and infuriating lows, stranger-than-fiction twists, Russian interference, and an opponent who broke all the rules. This is her most personal memoir yet…
She lays out how the 2016 election was marked by an unprecedented assault on our democracy by a foreign adversary. By analyzing the evidence and connecting the dots, Hillary shows just how dangerous the forces are that shaped the outcome, and why Americans need to understand them to protect our values and our democracy in the future."
---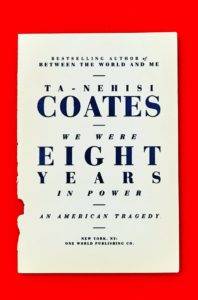 We Were Eight Years in Power: An American Tragedy by Ta-Nehisi Coates (Oct. 3)
From the publisher: "'We were eight years in power' was the lament of Reconstruction-era black politicians as the American experiment in multiracial democracy ended with the return of white supremacist rule in the South. In this sweeping collection of new and selected essays, Ta-Nehisi Coates explores the tragic echoes of that history in our own time: the unprecedented election of a black president followed by a vicious backlash that fueled the election of the man Coates argues is America's 'first white president.'
But the story of these present-day eight years is not just about presidential politics. This book also examines the new voices, ideas, and movements for justice that emerged over this period—and the effects of the persistent, haunting shadow of our nation's old and unreconciled history. Coates powerfully examines the events of the Obama era from his intimate and revealing perspective—the point of view of a young writer who begins the journey in an unemployment office in Harlem and ends it in the Oval Office, interviewing a president."
---
Katie Kurtzman, Publicity Director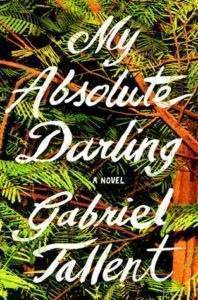 My Absolute Darling by Gabriel Tallent
As all my industry friends are gushing and I've already fallen in love with the jacket and title. I'm also afraid of it.
From the publisher: "Turtle Alveston is a survivor. At fourteen, she roams the woods along the northern California coast. The creeks, tide pools, and rocky islands are her haunts and her hiding grounds, and she is known to wander for miles. But while her physical world is expansive, her personal one is small and treacherous: Turtle has grown up isolated since the death of her mother, in the thrall of her tortured and charismatic father, Martin. Her social existence is confined to the middle school (where she fends off the interest of anyone, student or teacher, who might penetrate her shell) and to her life with her father.
Then Turtle meets Jacob, a high-school boy who tells jokes, lives in a big clean house, and looks at Turtle as if she is the sunrise. And for the first time, the larger world begins to come into focus: her life with Martin is neither safe nor sustainable. Motivated by her first experience with real friendship and a teenage crush, Turtle starts to imagine escape, using the very survival skills her father devoted himself to teaching her. What follows is a harrowing story of bravery and redemption. With Turtle's escalating acts of physical and emotional courage, the reader watches, heart in throat, as this teenage girl struggles to become her own hero—and in the process, becomes ours as well."
---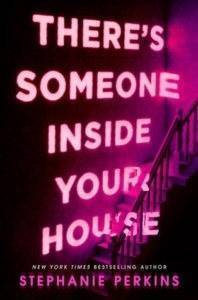 There's Someone Inside Your House by Stephanie Perkins (Sept. 26)
As I have a super cameo.
From the publisher: Scream meets YA in this hotly-anticipated new novel from the bestselling author of Anna and the French Kiss.
One-by-one, the students of Osborne High are dying in a series of gruesome murders, each with increasing and grotesque flair. As the terror grows closer and the hunt intensifies for the killer, the dark secrets among them must finally be confronted.
International bestselling author Stephanie Perkins returns with a fresh take on the classic teen slasher story that's fun, quick-witted, and completely impossible to put down."
---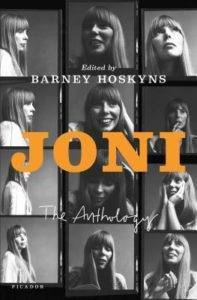 Joni: The Anthology by Barney Hoskyns (Oct. 3)
Because… Joni.
From the publisher: "From album reviews, incisive commentary, and candid conversations, Joni: The Anthology includes, among other things, a review of Mitchell's first-ever show at LA's Troubadour in June of 1968, a 1978 interview by musician Ben Sidran on jazz great Charles Mingus, a personal reminiscence by Ellen Sander, a confidant of the Los Angeles singer-songwriter community, and a long "director's cut" version of editor Barney Hoskyns' 1994 MOJO interview. A time capsule of an icon, the anthology spans the entirety of Joni's career between 1967-2007, as well as thoughtful commentary on her early years.
In collecting materials long unavailable, rare, or otherwise difficult to find, Joni: The Anthology illuminates the evolution of modern rock journalism while providing an invaluable and accessible guide to appreciating the highs–and the lows–of a twentieth century legend."
---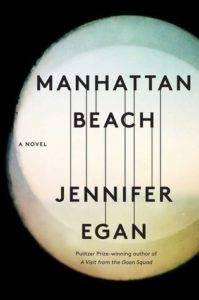 Manhattan Beach by Jennifer Egan (Oct. 3)
I've been waiting for this.
From the publisher: "The daring and magnificent novel from the Pulitzer Prize–winning author of A Visit from the Goon Squad — 'propulsive, surprising, ravishing, and revelatory… a profound page-turner that will transport and transform every reader.'—Booklist (starred review).
Mesmerizing, hauntingly beautiful, with the pace and atmosphere of a noir thriller and a wealth of detail about organized crime, the merchant marine and the clash of classes in New York, Egan's first historical novel is a masterpiece, a deft, startling, intimate exploration of a transformative moment in the lives of women and men, America, and the world."
---
I'm going to be honest with you, I've been collecting first editions of all of my favorite children's books for the past six months and my plan is to read them all once the weather gets colder. So: The Witches by Roald Dahl, Witch Week by Dianna Wynne Jones, Mossflower by Brian Jacques. When I'm not reading classic kid lit, though, I'm planning on stacking these near the top of my to-read pile…
---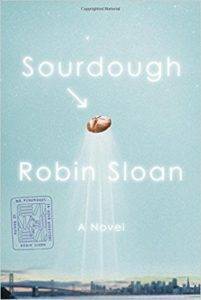 Sourdough: A Novel by Robin Sloan
I was part of the team that launched Mr. Penumbra's 24-Hour Bookstore when I worked at Farrar, Straus and Giroux… so I spent a lot of time with that book (if you love books, you'll probably love Mr. Penumbra). I like Robin a lot and Sourdough looks super-fun!
From the publisher: "Lois Clary is a software engineer at General Dexterity, a San Francisco robotics company with world-changing ambitions. She codes all day and collapses at night, her human contact limited to the two brothers who run the neighborhood hole-in-the-wall from which she orders dinner every evening. Then, disaster! Visa issues. The brothers close up shop, and fast. But they have one last delivery for Lois: their culture, the sourdough starter used to bake their bread. She must keep it alive, they tell her―feed it daily, play it music, and learn to bake with it.
Lois is no baker, but she could use a roommate, even if it is a needy colony of microorganisms. Soon, not only is she eating her own homemade bread, she's providing loaves daily to the General Dexterity cafeteria. The company chef urges her to take her product to the farmer's market, and a whole new world opens up.
When Lois comes before the jury that decides who sells what at Bay Area markets, she encounters a close-knit club with no appetite for new members. But then, an alternative emerges: a secret market that aims to fuse food and technology. But who are these people, exactly?"
---
Autonomous: A Novel by Annalee Newitz (Sept. 19)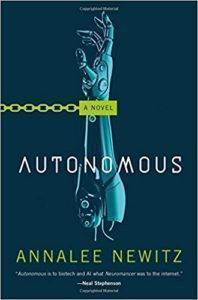 I'm clearly on a robotics/biotech kick – what can I say. I'll buy any book with a William Gibson blurb.
"Autonomous is to biotech and AI what Neuromancer was to the Internet."―Neal Stephenson
"Something genuinely and thrillingly new in the naturalistic, subjective, paradoxically humanistic but non-anthropomorphic depiction of bot-POV―and all in the service of vivid, solid storytelling."―William Gibson
From the publisher: "Earth, 2144. Jack is an anti-patent scientist turned drug pirate, traversing the world in a submarine as a pharmaceutical Robin Hood, fabricating cheap scrips for poor people who can't otherwise afford them. But her latest drug hack has left a trail of lethal overdoses as people become addicted to their work, doing repetitive tasks until they become unsafe or insane.
Hot on her trail, an unlikely pair: Eliasz, a brooding military agent, and his robotic partner, Paladin. As they race to stop information about the sinister origins of Jack's drug from getting out, they begin to form an uncommonly close bond that neither of them fully understand.
And underlying it all is one fundamental question: Is freedom possible in a culture where everything, even people, can be owned?"
---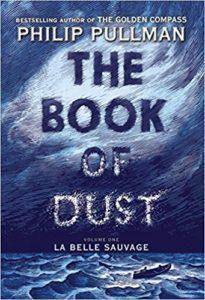 The Book of Dust by Phillip Pullman (Oct. 19)
After seventeen years, a new Phillip Pullman!
From the publisher: "The Book of Dust will be a work in three parts, like His Dark Materials (The Golden Compass, The Subtle Knife, The Amber Spyglass). The book is set ten years before The Golden Compass and centers on the much-loved character Lyra and her daemon Pantalaimon.
Philip Pullman offers these tantalizing details: "I've always wanted to tell the story of how Lyra came to be living at Jordan College, and in thinking about it, I discovered a long story that began when she was a baby and will end when she's grown up. This volume and the next will cover two parts of Lyra's life: starting at the beginning of her story and returning to her twenty years later. As for the third and final part, my lips are sealed."
---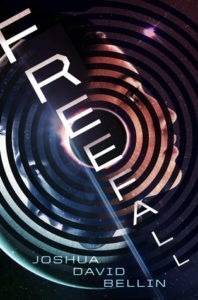 Freefall by Joshua David Bellin (Sept. 26)
I've shared many a signing table with Joshua and I'm excited to dig into his latest – which, conveniently, fits into my sci-fi/tech-future theme!
From the publisher: "When the 1% and the 99% clash, the fate of the human race hangs on the actions of two teens from very different backgrounds in this thrilling sci-fi adventure.
In the Upperworld, the privileged 1% are getting ready to abandon a devastated planet Earth. And Cam can't wait to leave. After sleeping through a 1,000-year journey, he and his friends will have a pristine new planet to colonize. And no more worries about the Lowerworld and is 99% of rejects.
Then Cam sees a banned video feed of protesters in the Lowerworld who also want a chance at a new life. And he sees a girl with golden eyes who seems to be gazing straight though the feed directly at him. A girl he has to find. Sofie."