By day, Jessica Strawser — a Pittsburgh native — is the Editorial Director of Writer's Digest magazine, North America's leading publication for aspiring and working writers since 1920. By night, she is a fiction writer with a debut novel, Almost Missed You, forthcoming in 2017 from St. Martin's Press and another stand-alone novel to follow in 2018.

Don't miss out: Strawser will be launching Almost Missed You at Penguin Bookshop on April 6th!

From the Publisher: "Violet and Finn were 'meant to be,' said everyone, always. They ended up together by the hands of fate aligning things just so. Three years into their marriage, they have a wonderful little boy, and as the three of them embark on their first vacation as a family, Violet can't help thinking that she can't believe her luck. Life is good.

So no one is more surprised than she when Finn leaves her at the beach―just packs up the hotel room and disappears. And takes their son with him. Violet is suddenly in her own worst nightmare, and faced with the knowledge that the man she's shared her life with, she never really knew at all.

Caitlin and Finn have been best friends since way back when, but when Finn shows up on Caitlin's doorstep with the son he's wanted for kidnapping, demands that she hide them from the authorities, and threatens to reveal a secret that could destroy her own family if she doesn't, Caitlin faces an impossible choice…"

"Almost Missed You is an emotional powerhouse of a novel, filled with complex relationships and difficult choices, the secrets we keep, and the lies we tell to those we love while hoping to shield them from harm. Strawser's tale of guilt, blame, redemption, and forgiveness is a must read for anyone who enjoys a well-told, compelling exploration of the human heart." —Garth Stein, New York Times bestselling author of The Art of Racing in the Rain and A Sudden Light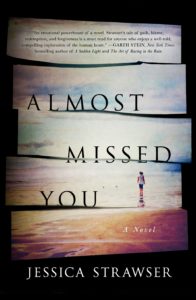 What's your favorite thing about Pittsburgh?
Definitely its history. My grandfather worked in an Ambridge steel mill, and my dad grew up in a tight-knit community of mill families, where decades later my grandmother still spoke of all the women scrambling out of their row houses to pull their sheets off the clotheslines when the wind took an upriver turn. I loved reading Out of This Furnace in high school, and still vividly remember the shared pride in our classroom that came with knowing our local heritage had a firm place in the curriculum.
Now that I live in Ohio, I sometimes get hassled (with love, of course — at least, I think they mean it with love) about being a Steelers fan, but they back down once I explain that it's practically a genetic trait. (Having married a Bengals fan, we're still sorting out what happens to the genes from here… but so far our kiddos enthusiastically cheer both teams, which is actually a lot of fun.)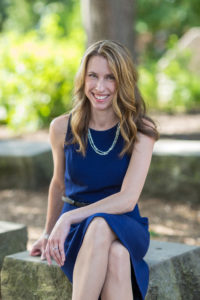 What books are on your nightstand?
One of the best parts of my day job at Writer's Digest is the opportunity to interview bestselling authors for our cover stories — so you'll always find the latest title by my next interviewee there. This is a great way to push myself to read in different genres; last year, for example, I gave myself back-to-back crash courses on Junot Diaz, Robert Crais and Debbie Macomber. Of course, I try to always be reading one of my own favorites too (Liane Moriarty, Jodi Picoult, Maggie O'Farrell) …
Is there a book you'd like to see made into a film?
I'm one of those annoying people you do not want to go see a book-to-screen film with, because I'll constantly be shaking my head and whispering to you about what was different in the book. That being said, I can't say I wouldn't like to see my own novel made into a film… not that I've given it much thought (Jake Gyllenhaal as Finn, oh please oh please, cough cough).
If you were to write a book set in Pittsburgh, what would it be about?
As a Pittsburgher who has spent a lot of my adult life living elsewhere, I'd love to turn the tables and set a fish-out-of-water story in my hometown.
Who would you most want to share a plate of pierogis with?
My 3-year-old daughter. She's had a milk allergy since infancy — no cheese, no butter, no fun—and we just received the good news from her specialist that her latest tests came back clear and she has officially outgrown all dietary restrictions! I can't wait for her to try that pierogi goodness for the very first time. I think we can all agree three years is too long to wait!

Photo: Corrie Schaffeld