Daniel Lowe teaches writing at the Community College of Allegheny County in Pittsburgh, Pennsylvania, and received his MFA in fiction writing from the University of Pittsburgh. His debut novel, All That's Left to Tell, "celebrates not just the power of storytelling but the deeply human need for it in even the most dire situations" (Stewart O'Nan).

Don't miss out: Lowe will be at White Whale Bookstore on February 17th, in conversation with Stewart O'Nan!

From the Publisher: "Every night, Marc Laurent, an American taken hostage in Pakistan, is bound and blindfolded. And every night, a woman he knows only as Josephine visits his cell. At first, her questions are mercenary: is there anyone back home who will pay the ransom? But when Marc can offer no name, she asks him a question about his daughter that is even more terrifying than his captivity. And so begins a strange yet increasingly comforting ritual, in which Josephine and Marc tell each other stories. As these stories build upon one another, a father and daughter start to find their way toward understanding each other again…"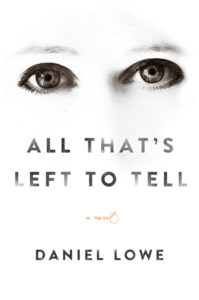 What comes to mind when you think of Pittsburgh?
I am a transplant from rural Michigan, but I've lived here now for thirty-five years. When I arrived for graduate school in 1981, the coke ovens would pump their exhaust into the close August evenings, and now, with the ovens in the city long ago closed, on the rare occasion when I catch that distant, pungent odor, possibly downwind from the Clairton Works, I'm filled with a nostalgia for the time when Pittsburgh was, for me, a big city filled with promise and possibility.
What books are on your nightstand?
Currently, Lauren Groff's Fates and Furies, Toni Morrison's The Bluest Eye, Bruce Springsteen's autobiography (Born to Run), and The Everything Labrador Retriever by Kim Campbell Thornton (puppy on the way).
Is there a book you'd like to see made into a film?
You mean other than mine? David Mitchell's Slade House would be fun to watch, as would John Banville's The Infinities.
Who would you most want to share a plate of pierogis with?
After my wife, and any of my children, probably James Joyce, not because I enjoy reading him more than a number of other writers, but because of how much I'd have the opportunity to learn. (I'd treat to a shot and a beer, too.)
Ed. note: Speaking of Joyce, when you're done reading our excerpt of All That's Left to Tell, check out Littsburgh's Bloomsday reading list!