Alexandria Marzano-Lesnevich is the author of The Fact of the Body: A Murder and a Memoir ("A true crime masterpiece" – Vogue). Her essays appear in the New York Times, Oxford American, and the anthologies True Crime (edited by Pittsburgh's Lee Gutkind) and Waveform: Twenty-first Century Essays by Women, as well as many other publications. The recipient of fellowships from The National Endowment for the Arts, MacDowell, and Yaddo, and a Rona Jaffe Award, Marzano-Lesnevich lives in Boston, where she teaches at Grub Street and Harvard's Kennedy School of Government.

Don't miss out: Marzano-Lesnevich will be visiting White Whale on Friday, September 29 and giving at presentation at the Creative Nonfiction Foundation the following day (September 30)!

From the Publisher: "Before Alexandria Marzano-Lesnevich begins a summer job at a law firm in Louisiana, working to help defend men accused of murder, she thinks her position is clear. The child of two lawyers, she is staunchly anti-death penalty. But the moment convicted murderer Ricky Langley's face flashes on the screen as she reviews old tapes—the moment she hears him speak of his crimes — she is overcome with the feeling of wanting him to die. Shocked by her reaction, she digs deeper and deeper into the case. Despite their vastly different circumstances, something in his story is unsettlingly, uncannily familiar…

An intellectual and emotional thriller that is also a different kind of murder mystery, The Fact of the Body is a book not only about how the story of one crime was constructed — but about how we grapple with our own personal histories."

"The Fact of a Body is one of the best books I've read this year. It's just astounding."— Paula Hawkins, author of Into the Water and The Girl on the Train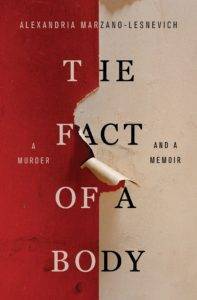 What comes to mind when you think of Pittsburgh?
The long drives I'd take when I was living in Allentown, teaching at Cedar Crest College, and yet dating a woman who lived in Pittsburgh! The drive was beautiful—I adore cows—and arriving in Pittsburgh was even better. She was a modern dancer and choreographer, and through her I got to see some of the vibrant, generative spaces downtown and the really interesting work being produced there. I think of Pittsburgh as tremendously arts-friendly.
What books are on your nightstand?
I'm traveling on book tour as I type this, and moving apartments when I get back home, so: who knows. Whatever's not in a box yet. But what I have with me, on my Kindle, is Sylvia Brownrigg's Pages For Her, Philippe Sands' East West Street: On the Origins of Genocide and Crimes Against Humanity, Elizabeth Becker's When the War Was Over: Cambodia and the Khmer Rouge Revolution. A little light reading. A little not.
Is there a book you'd like to see made into a film?
Well, my own! But in addition to that, what I'd love to see is a filmmaker tackle something improbable and create a new piece of art out of it. What would a film based on Maggie Nelson's Bluets look like, for example?
Who would you most want to share a plate of pierogis with?
My favorite living poet, Adam Zagajewski.