We're thrilled to be able to share with you the first chapter of To Brew or Not to Brew, "an all-new mystery series set in a Pittsburgh craft brew pub" by Pittsburgh's Joyce Tremel (published here courtesy of Berkley Prime Crime).

If you missed it, check out Tremel's interview in The Big Thrill — and don't miss her book launch and beer tasting at Mystery Lovers this Saturday, December 5th!

"Tremel knows and loves her Pittsburgh setting, making the mystery all the more real and enjoyable." – Cleo Coyle, New York Times bestselling author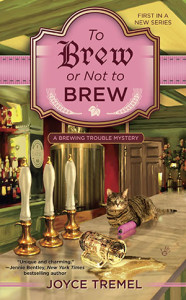 If looks could kill, the plumbing inspector giving me the bad news would have been in big trouble. "What do you mean there's a crack in the water line?" I said. "That's just not possible."
"Right here." He pointed. "You're going to have to replace this whole piece."
Sure enough, there was a one-inch gash in the line running to the brand new stainless steel brew kettle, which we'd just installed a few days ago. I was hoping to brew a batch of pale ale tomorrow, but that was now out of the question. .
The inspector brought me back down to earth. "You'll have to schedule another inspection after you get this taken care of."
This should have been the final plumbing inspection. The brew kettle we'd been using had been a hand-me-down from a local brewery that had upgraded their equipment. I hadn't planned on a new brewing tank for another year, but this one had come up at a price I couldn't pass up. Everything else, from the kitchen to the restrooms to the tanks we'd installed previously, had all passed weeks ago. I couldn't afford a delay right now. The opening of my brewpub—the Allegheny Brew House—was only a month away.
"When I call to schedule it, how long will I have to wait until you come out?"
He shrugged. "I'll try to get out the same day, but it really depends on how busy I am."
That eased my mind a little bit—provided I could get the plumber in tomorrow to fix it.
The inspector passed a clipboard to me. "I need your signature that you acknowledge that you didn't pass."
I signed where he indicated.
He studied my John Hancock. "You don't look like a Max."
I'd heard that so many times, I'd lost count. I couldn't help it that I was born the only girl in my family. I had five older brothers and my parents assumed they'd have another boy when I surprised them twenty-nine years ago. My brothers all had normal first names—Sean, Patrick, Joseph, James, and Michael. I had no idea why they decided Maximilian would be a good name for a baby. It wasn't even Irish. Anyway, I ended up Maxine, but I preferred plain old Max.
"I'd get that fixed first thing tomorrow if I were you, Miss O'Hara."
As I watched him leave, I fought the urge to beat my head against the steel tank. All I could see were more dollar signs before my eyes. Although my plumber happened to be my brother Michael, he still needed to be paid. I got the family discount, but it was still money I hadn't planned on. Now I was second-guessing my decision to buy this tank.
"Another problem?"
I started at the sound of my assistant's voice behind me. Truth be told, Kurt Schmidt was more than an assistant. I didn't know where I'd have been without him. The son of one of my instructors in Munich, he knew just about all there was to know about brewing beer. He was also an accomplished chef who made the best apple strudel I'd ever tasted. He was easy on the eyes, too—tall, blond, and blue-eyed. There was no romance between us. He was more like my sixth brother, and he was completely devoted to his fiancée back in Germany. "I'd say so," I answered. "There's a crack in the water line." I showed it to him.
Read an all-new mystery series set in a Pittsburgh craft brew pub by @littsburgh's @JoyceTremel!
Click To Tweet
"That's very strange. It wasn't there yesterday," he said. "It should not have split like that. It is not a high-pressure line." He removed his wire-rimmed glasses and examined it closely. "Someone cut this."
"Impossible. No one's been near these tanks except the two of us. It was probably just defective."
"Do you really think Mike would have used a defective pipe?"
"Maybe he didn't see it." At this point, I was just relieved it wasn't a line that was turned on all the time. It might have flooded the whole pub.
"You don't think that any more than I do."
"There's no other explanation. Like I said, we're the only ones who have been near it."
Kurt put his glasses back on. "I suppose you still don't believe the loose electric breaker, the broken mirror, the scratched bar top, and the half dozen other little things aren't connected. I'm telling you, someone is trying to keep us from opening."
This wasn't the first time I'd heard this line of reasoning. Sure there'd been some minor annoyances, but they'd been bound to happen. Even during construction, things hadn't always gone according to plan. It went with the territory. There were always surprises. "You're right," I said. "I don't believe it." I turned and went down the metal stairs of the elevated platform that served to reach the higher sections of the tanks. I'd considered installing all the equipment out of sight, but decided half the fun of going to a brewpub was seeing how what you were drinking was made. I wanted a wall of glass, but because of the cost, I'd opted for a large window instead. Eventually, I planned to give brewery tours, but that was a long way off.
I went through the swinging wooden door of the brewery area, crossed the pine-plank floor, and sat down at the oak bar. I couldn't let myself believe we were being sabotaged. If I did, I'd be giving in to all those who said I'd never succeed in this endeavor. The first time I set eyes on the former Steel City Brewery, I knew it was what I'd been waiting for. When I returned to Pittsburgh from Germany after earning my brewmaster certification, I spent months searching for the perfect spot to open my brewpub. It had taken even longer to get financing, even though I had a nice inheritance from my grandmother for a down payment. No one wanted to take a chance on a five-foot-two female brewmaster. I finally found a lender that specialized in financing women entrepreneurs, and the rest, as they say, is history. At least I hoped so.
Seconds later, Kurt took the stool beside me. "It is not a coincidence."
"You don't know that," I said.
"Explain it, then."
"I can't any more than you can. Don't you think if someone was sabotaging us, they'd come up with something a little more elaborate? It's been annoying, but it's all fixable. And how are they getting in? None of the doors have been tampered with."
"That doesn't mean anything. Maybe whoever it is has a second career picking locks. At least the alarm company is finishing up soon. Then, when the alarm is set off, you'll see that I'm right." Kurt stood. "It's almost five o'clock. Why don't you go home? I'll lock up tonight. I want to work on that kirschtorte recipe."
"But it's delicious already." My mouth watered just thinking about it.
Kurt shook his head. "Not quite. It tastes like every other chocolate cherry cake. It's missing something. I want it to be perfect."
If it turned out half as good as the apple strudel, he could do whatever he wanted with it. The kitchen was his domain. I'd stick with the beer.
I took Kurt's advice for a change and left a short time later—after I called Mike, who promised to be there bright and early in the morning. Once outside, I turned to admire the building, like I did at least once daily. Sometimes I had to pinch myself to realize that all this really was mine. It was hard to believe that, not long ago, this had been an empty, forlorn shell. The former Steel City Brewery had been bought out by a large conglomerate, and the first thing the big boys did was shut down the Pittsburgh operation. All the equipment was auctioned off, and the buildings had sat empty for several years before the brewing plant itself had burned to the ground.
The single-story redbrick building, which was now the Allegheny Brew House, had been used as offices for the company. It was at the end of the row of buildings housing various shops and other businesses. It had taken quite a while to tear out everything down to the brick walls. I hoped my patrons would love the exposed brick inside as much as I did. A nice find had been pine-plank floors underneath the industrial linoleum. It had been much cheaper to have them restored than to install new boards.
Both the brewery and my loft apartment were in the Lawrenceville section of Pittsburgh. Since Children's Hospital had moved from near the University of Pittsburgh in Oakland to the Bloomfield-Lawrenceville border, the area was booming. It was no longer considered a "bad" neighborhood. Real estate values had skyrocketed, partly because of the medical professionals wanting to move close to work. Developers who bought up all the distressed properties and rehabbed them were likely making a killing on the resale. New shops and cafés opened constantly. It seemed like every time I walked up Butler Street to head home, I spotted something that hadn't been there the week before. On my block alone, there was a cupcake bakery, a flower shop, several boutiques, a deli, and a coffee shop.
I was tempted to stop for a treat when I passed the Cupcakes N'at bakery next door to the pub, but talked myself out of it. Out of towners always questioned the name of the bakery. The cupcake part they got, but inevitably someone wanted to what n'at meant. I actually looked it up once and found it was short for and all that. Many of the expressions known as "Pittsburghese" originated with either the Scots-Irish or the Pennsylvania Dutch.
The owner, baker extraordinaire Candy Sczypinski, had become a good friend and apparently thought she was helping when she brought her creations over for us to sample, but my waistline couldn't handle much more. Between the cupcakes and other goodies, and sampling the menu items Kurt was coming up with, I was going to have to start walking more than just to the brewery and back. I considered joining the new gym a few blocks away, but I didn't know when I'd actually have the time to go.
Instead of a cupcake, I grabbed a turkey sandwich from the deli across the street. The deli was owned by Ken Butterfield, who manned the counter most days, but since it was after five, he was gone for the day. As I climbed the two flights of stairs to my apartment with my low-calorie sandwich in hand, I felt downright virtuous. That feeling was replaced with guilt when I unlocked the door. I'd moved here three months ago, but the place was still littered with boxes that I hadn't had time to unpack. I kept telling myself I'd get to them tomorrow, but after putting in twelve-hour days at the pub, I was too exhausted to do much of anything else.
But at least I had furniture. Sort of. Grandma O'Hara's traditional wingback sofa and chairs didn't exactly go with the modern style of the apartment. The dark mahogany end tables didn't match the bleached-oak laminate flooring. Gram's antique dining room set didn't even fit—it was stored in my parents' basement. It would have looked ghastly with the white cabinets and stainless steel in the kitchen anyway. She always said Beggars can't be choosers, and while I certainly wasn't a beggar, I was glad to have the hand-me-downs whether they matched or not. Besides, it was comforting to have a little part of her with me. I'd been in Germany when she passed two years ago, and I still regretted that I hadn't made it home for her funeral, although Gram herself would have been upset with me if I had. A waste of good money, she would have said. She'd never squandered so much as a dime. It was thanks to her that I'd had a nice down payment for the brewery.
When I finished eating my sandwich, I sat at the kitchen island and wondered what to do with myself. I wasn't used to this. I reached for the pen and pad beside the phone and made a list of things I had to do over the next week. The plumber was already taken care of. I had to schedule some waitstaff interviews. The alarm company needed to finish and activate the alarm. Kurt had already started training the kitchen staff, so I should probably touch base with how that was going. There were other miscellaneous deliveries that I needed to be present for. I hoped I wasn't forgetting anything.
The phone rang just then, and I picked it up.
"Wonder of wonders, my baby sister is at home." It was my oldest brother, Sean. Father Sean to his parishioners. Some people thought he had gone into the priesthood because he was the oldest Irish Catholic son, but it was truly a calling for him. He'd broken more than a few hearts when he decided on the seminary. We'd both inherited Mom's black hair and blue eyes, and they gave him a debonair movie-star look, especially when he wore the collar. If Hollywood ever remade The Bells of St. Mary's, he'd be a shoe-in to play Father O'Malley. Twelve years my senior, he was my favorite brother, although I'd never tell the others that. A little sister had been a novelty to him, and he became my protector from the day Mom and Dad brought me home from the hospital.
"You can always call my cell phone if I'm not at home, you know."
"I missed you at Mass yesterday," he said.
He obviously couldn't see me, but I felt my face flush anyway. I would have liked to tell him I went to another parish, but I couldn't very well lie to a priest, even if he was my brother. "Sorry about that. I got tied up at the brewery."
"You're working too hard. We missed you at dinner, too."
Sunday dinner was a long-standing family tradition. Most of the time I loved it. Since three of my five brothers were scattered across the country, Mom liked to keep the rest of us close. I often thought it was because Dad was a police officer. Even though he was a homicide detective now and not on the front lines as much as when he'd been in uniform, she still worried. I'd already talked to Mom that morning about missing dinner and she understood. At least, she'd told me she did.
"With the opening so close, I had a lot to do," I said.
"Anything I can do to help? Believe it or not, I haven't forgotten how to wield a hammer or a screwdriver."
"Don't let your parishioners know you can do that. You don't want the contributions to drop because they think you don't need to pay a handyman."
Sean laughed.
"Thanks for the offer," I said, "but we'll be fine if we stay on schedule. I'll be sure to make it to dinner next week."
"And Mass, too?"
"Hopefully."
"Maxie . . ."
Sean was the only one who dared call me that. When I was five, I busted the next-door neighbor kid in the chops for doing it. "Fine. I'll be there," I said.
"Good. I'll see you on Sunday."
I puttered around for a while and actually cleaned out a few boxes of kitchen items. It was nice to see the cabinets fill up. There was a small collection of German beer steins in one of the boxes, and I washed and arranged them on one of the built-in bookshelves in the living room. It was a nice touch, even though the rest of the shelves were almost empty. I vowed to make a better effort to get things unpacked. It was never going to look like home until I did.
By ten o'clock, I was tired and decided to call it a night. The phone rang as I finished brushing my teeth. I almost didn't answer it, and when I did, I was surprised to hear Kurt's voice.
"Is everything okay?" I asked.
"I was right."
"About what? Your kirschtorte?"
"No. The sabotage."
Not this again. "There is no—"
"Yes, there is. I know what's going on, and I know exactly who is doing it."
I would have argued more, but something in his voice stopped me. "What happened?"
"I have proof. I heard a noise and found . . . You need to come down here. It'd be better if I showed it to you. Then we can turn it over to the police and get to the bottom of this whole thing."
I still wasn't convinced anything was going on, but Kurt wouldn't have called this late if he didn't think it was urgent. So much for an early night. "I'll be right there."
"Kurt?" I called as I dropped my purse on the bar. The lights were all on, but he wasn't in the main room of the pub. Upset as he was, I thought he would have met me at the door. Maybe he was in the kitchen. I crossed the plank floor to the other side of the room and pushed open the swinging door. The scent of chocolate and cherries made my mouth water. His latest torte creation sat half-decorated on the stainless steel counter. A bowl of thickened tart cherries was beside it, along with a plastic piping bag that looked full of whipped cream. It was odd he'd walk away without putting it back into the refrigerator. I put the cherries and whipped cream in the fridge, then went looking for Kurt.
He wasn't in my office. I opened the door that led to the basement, but the lights were out. I stopped outside the men's restroom and knocked on the door. Twice. I didn't want to just barge in. Kurt was a good friend, but not that good. When he didn't answer, I peeked in. It was empty. I stood in the hallway and tapped my foot. I went back down the hallway to the pub. I could see through the window that the brewery was dark. Where could he be? Surely he wouldn't have taken off and left the place unlocked—especially after asking me to come down here. Could he have stepped out for a quick snack? I went back to the bar and sat down to wait.
Fifteen minutes later, Kurt hadn't returned. The longer I waited, the madder I got. Why had he bothered calling me if he was going to leave? Apparently, whatever he had to tell me wasn't all that important after all. I snatched my cell phone from my purse and tapped his number on the speed dial with a lot more force than I needed. He'd better have a good explanation. Seconds later, the sound of his phone ringing made me jump. The sound was muffled, so I couldn't figure out where it was coming from. I got up, and as I crossed the room the sound got louder. The ringing seemed to be coming from the brewing area. It didn't make sense that Kurt would leave his phone in the darkened brewery. I pushed the swinging door halfway open and paused. The ringing stopped, and Kurt's voice mail picked up. There was another sound, however—the mash tun was operating. A prickly sensation went down my spine. Why was that tank running? We had cleaned out the spent mash earlier when I'd brewed a batch of hefeweizen. There was no reason for it to be turned on, especially at this time of night.
"Kurt?" I fumbled for the light switch. My fingers found it and the overhead lights blazed on. I blinked a couple times at the sudden brightness and spotted Kurt on the platform bent over the large opening at the top of the mash tun. Something wasn't right about that. I was about to call his name again when it registered. His feet weren't touching the floor. Heart in my throat, I raced up the metal stairs, the clangs echoing through the room with each step. I reached for the switch beside the tank. My hands shook horribly. I missed the switch. I tried again and turned it off.
It wouldn't have mattered if I'd missed it again. There was a good reason why Kurt hadn't been waiting for me or responded when I called him.
He was dead.
This excerpt is published here with permission of Berkley Prime Crime.
Click here for more information on To Brew or Not to Brew…