Have you checked out Carnegie Library of Pittsburgh's redesigned Eleventh Stack blog yet?

Eleventh Stack is run by a group of library workers who are passionate about books, movies and music — and was originally envisioned as a place to explore all the cool stuff at the Main Library, which is home to about a million items. Recently, they've branched out to explore the rest of the Carnegie Library system!

Littsburgh loves the Carnegie Library of Pittsburgh — and in an effort to spread the word about the excellent work they're doing — we'll be highlighting posts from the Eleventh Stack from time to time…

If you're looking for reading recommendations, we highly recommend you bookmark the Eleventh Stack — and give Carnegie Library of Pittsburgh a follow on Facebook and Twitter!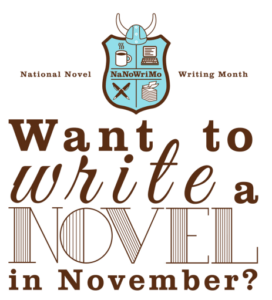 It's time again for National Novel Writing Month and the Library is here to help our local writers reach that 50,000 word goal!
In case you missed it, Kelly's NaNoWriMo post from last year has some great resources for writing a novel in a short amount of time.
This year, seven locations will be hosting Write-In programs. We'll have space for you to work, coffee and snacks to keep you going, and most importantly, the support of your fellow writers.
CLP – Main (First Floor Magazine Room) • Saturdays | 12 – 2 pm
CLP – Beechview • Saturdays | 2 – 4 pm
CLP – Brookline • Saturdays | 2 – 5 pm
CLP – Downtown & Business • Saturdays | 1:30 – 4 pm
CLP – Homewood • Saturdays | 12 – 4 pm
CLP – West End • Saturdays | 10 am – 12 pm
CLP – Woods Run • Tuesdays | 6 -8 pm
If you're like me and the idea of completing a novel in one month brings on a cold sweat, maybe reading some of novels that have been published as a result of the project is more your speed. You might recognize a few of these titles that started out as NaNoWriMo drafts:
Water for Elephants by Sara Gruen
The Night Circus by Erin Morgenstern
Fangirl by Rainbow Rowell
Wool by Hugh Howey
The Darwin Elevator by Jason M. Hough
Marissa Meyer's Cinder series
The Martian by Andy Weir
Beyond these best-sellers, there are many, many more books, across all genres, that also started as WriMo projects and made it publication. Hopefully, these write-in workshops will help a few budding novelists reach that goal!
Jess is the Clerical Specialist at the Woods Run branch on the North Side. She's your girl for YA lit, romance novels and knitting.
This post sponsored by our friends at the Carnegie Library of Pittsburgh