Have you checked out Carnegie Library of Pittsburgh's redesigned Eleventh Stack blog yet?

Eleventh Stack is run by a group of library workers who are passionate about books, movies and music — and was originally envisioned as a place to explore all the cool stuff at the Main Library, which is home to about a million items. Recently, they've branched out to explore the rest of the Carnegie Library system!

Littsburgh loves the Carnegie Library of Pittsburgh — and in an effort to spread the word about the excellent work they're doing — we'll be highlighting posts from the Eleventh Stack from time to time…

If you're looking for reading recommendations, we highly recommend you bookmark the Eleventh Stack — and give Carnegie Library of Pittsburgh a follow on Facebook and Twitter!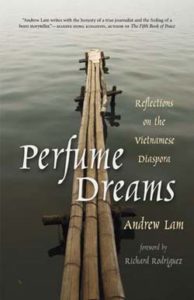 If Andrew Lam's name rings a bell you might have heard him on All Things Considered, or seen some of his writing for New America Media and HuffPo. If you're more of a TV/movies person, you may have even spotted him on PBS. You can also find Lam in the Library, in the form of his first book, Perfume Dreams: Reflections on the Vietnamese Diaspora.
Clocking in at a mere 140 pages, the book is deceptively slim. Its contents, however, will resonate with readers long after they've finished it. Though Lam eagerly embraced American life and assimilated easily, he never really could leave Vietnam behind. Each of Lam's essays describes the state of being Viet Kieu, or "Overseas Vietnamese," an immigrant experience unavoidably colored by war. Lam often describes the same incidents multiple times across essays, revealing new details each time; this creates a collage effect that deepens understanding. By the time you get to the end, you'll definitely want to know more about Lam and his family.
If you're interested in Perfume Dreams, you might also want to explore the Library's other tales of the diaspora experience, which comes in as many varieties as there are nations. Whether by choice, chance or crisis, those who leave their homeland have complex tales to tell. Take a spin through the catalog and see how the immigrant narrative has become a keystone of contemporary American writing.

Leigh Anne recommends good books and outwits Google daily. If you hear anybody singing or whistling in the stacks, it's probably her.
This post sponsored by our friends at the Carnegie Library of Pittsburgh
Header: The Perfume River (Hương Giang) and the Phú Xuân Bridge at Huế, where author Andrew Lam lived as a child.

The Perfume River (Hương Giang) and the Phú Xuân Bridge at Huế, via Wikimedia Commons. © CEphoto, Uwe Aranas / CC BY-SA 3.0.