Judy Blume is coming to Pittsburgh on July 12th and we're freaking out!*

Below are some of Littsburgh's childhood favorites, inspired by Pittsburgh's Arts and Lecture's Words & Pictures series ("presenting acclaimed children's authors to readers of all ages") and Carnegie Library of Pittsburgh's 90,000-book reading challenge.

If you're in the market for more recommendations, check out some amazing excerpts from local and visiting authors — including an excerpt from Judy Blume's latest novel for adults, In the Unlikely Event — right here on Littsburgh!

* This event is sold out!
Nick recommends The Snarkout Boys and the Avocado of Death by Daniel Pinkwater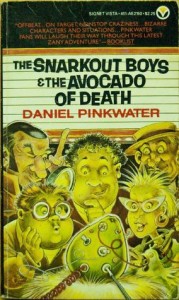 I'm on record saying that "Snarkout Boys and the Avocado of Death is the Great American Novel." I stand by that claim.
From the publisher: "There's a crime. There's a master criminal. There's a fat man in a fez. Fans of Lizard Music, take note: Chicken Man is here, and his chicken dances while Daniel Pinkwater defies gravity to bring you a mind-boggling feast. As the Wizard of Comedy transports the Snarkout Boys and Rat through the tunnel under North Aufzoo Street to the warmth of Beanbenders and into a sci-fi mystery adventure that is like a dream (but no one is sleeping), you will meet some strange characters, and learn much about the versatile avocado.
Daniel Pinkwater has been quietly, subversively producing books for the most intelligent and creative children and young people in America for more than twenty-five years. (Adults may know him as a frequent commentator on National Public Radio, essayist, book reviewer, and the author of The Afterlife Diet). Well over a million copies of his books have been sold since the first, The Terrible Roar, was published in 1970."
Rachel recommends Ronia, the Robber's Daughter by Astrid Lindgren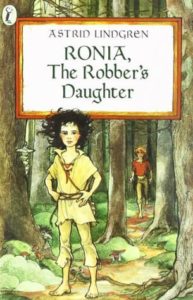 I convinced my mom to buy this for me at a school book fair after a classmate told me it had a "bad word" in it (I think it was "hell"). My favorite book… even without the cussing. Gray dwarfs all, bite and strike!
From Wikipedia:
"Ronia is a girl growing up among a clan of robbers living in a castle in the woodlands of early-Medieval Scandinavia. As the only child of Matt, the chief, she is expected to become the leader of the clan someday. Their castle, Matt's Fort, is split in two parts by a lightning bolt on the day of Ronia's birth. Ronia grows up with Matt's clan of robbers as her only company, until a rival robber group led by Borka moves into the other half of the castle, exacerbating the longstanding rivalry between the two bands.
One day, Ronia sees Birk Borkason, the only son of Borka, idling by the chasm. He is the only other child she has ever met, and so she is sorry that he is a Borka. He engages her in a game of jumping across, which does not end until Birk almost falls down. Ronia saves him, and they later on become friends…"
Katie recommends A Ring of Endless Light by Madeleine L'Engle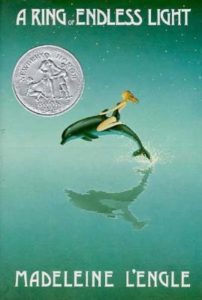 I read this book when I was 11 during my "marine biology" phase—in which I proudly wore dolphin print t-shirts and covered my bedroom walls with whale migration maps. Most people think of L'Engle's fantasy books, but I loved this realistic fiction of a girl dealing with first love AND helping do research on dolphins. What else do you need in a YA novel?
From the publisher:
"After a tumultuous year in New York City, the Austins are spending the summer on the small island where their grandfather lives. He's very sick, and watching his condition deteriorate as the summer passes is almost more than Vicky can bear. To complicate matters, she finds herself as the center of attention for three very different boys.
Zachary Grey, the troubled and reckless boy Vicky met last summer, wants her all to himself as he grieves the loss of his mother. Leo Rodney has been just a friend for years, but the tragic loss of his father causes him to turn to Vicky for comfort—and romance. And then there's Adam Eddington. Adam is only asking Vicky to help with his research on dolphins. But Adam—and the dolphins—may just be what Vicky needs to get through this heartbreaking summer."