Scott Silsbe was born in Detroit and now lives in Pittsburgh. His poems and prose have appeared in numerous periodicals, including Kitchen Sink, Third Coast, Nerve Cowboy, Chiron Review, and the Pittsburgh Post-Gazette. He is the author of three poetry collections: Unattended Fire (Six Gallery Press), The River Underneath the City (Low Ghost Press), and Muskrat Friday Dinner (White Gorilla Press).

Don't miss out: Silsbe will be launching Muskrat Friday Dinner at Brillobox on Saturday, May 27th (with readings by Silsbe, Dave Newman and Lori Jakiela… and live music)!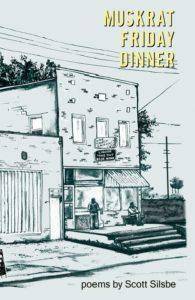 Everyone Loses
When I can't do what I want to do,
I do something similar but different.
Sitting on a barstool at the BBT,
having a cold one and a small
plate of pierogies, I'm reminded
of why I don't watch the news.
When I tell Mark that I think
that everyone loses, he says,
"It's not just that everyone loses,
it's that no one ever wins."
---
Some Faint Music
The darker clouds are starting to move this way,
but there are still some patches of blue and a bit
of sun occasionally. Birds are making their calls,
some very close by and some a few blocks away.
Still a little hungover from too many Derby Day
mint juleps had while watching the horses run on
a small television in a row house in Bloomfield,
then more juleps later at a bar with Bob and Amy
for Bob's birthday. Bob kept ordering us rounds
of them and Amy kept complaining about how
terrible the waitress was at her job. But now I'm
out on my back deck with Levine and Vonnegut
and it seems like it wants to rain, though it's just
warm enough for short sleeves. There's one shot
of Puerto Rican espresso in my coffee and planes
are buzzing over my head. And inside the house
I hear some faint music playing in the kitchen—
Paulette singing or whistling along with it. I think
it's Billie Holiday, though it might be Roy Brown.
---
Millions of Small Diamonds
After hours spent in a basement
fighting to find the right balance
between sheer noise and melody,
taking little breaks to spin LPs
and attempt ten different ways
to shuffle a deck of cards, we step
out onto Graham Street, lit up
in a white powder that's fallen
from the sky, gathering on top
of the cars, on the sidewalks
and the street, the unwavering
orange street lights of Garfield
making the blank sheet of snow
shine millions of small diamonds,
and we ruin the incredible sight
by trudging uphill to your car,
brushing and scraping all of the
diamonds off, sending them all
to the ground, where they will
before too long melt and flow
into the city's rivers and forget
what they all had been for us
this early Pittsburgh morning.
---
Jenny Was No Lady
My buddy Charlie called to say
to come down to Pollock's Cafe,
try to get down there pretty quick.
"What is it?" I said into the phone.
"It's Patrick," he said, "come down."
When I walked into Pollock's,
Patrick was on a stool at the bar,
sobbing, his eyes and face all red
and Charlie was at a table across
from him, looking all stressed out.
Patrick didn't say anything, but
greeted me with his sad, red eyes,
then turned to the bar and his beer.
The large television in the one corner
was loud enough that Charlie could
whisper to me what had happened.
It was all about Jenny. She and poor
Patrick were having a fling and he'd
fallen for her, of course, and now
she was seeing some other guy
named Craig. It was killing Pat.
I shook my head. I thought about
how Patrick and Jenny had tried
to pretend they weren't a thing,
even though everybody knew it.
I thought about Jenny and how
good she looked and how poor
we all were and how she had
made Patrick even more poor
because she'd stepped on his
fragile heart and I thought about
how she probably didn't really
give a shit about his fragile heart.
"Goddamn it," I said to Charlie
and he nodded. It seemed like
there was nothing we could do.
What was this Jenny thinking?
I wondered to myself. Just who
does she think she is, this Jenny?
Why's she got to step on his heart?
She must think she's a movie star.



Excerpted from Muskrat Friday Dinner by Scott Silsbe. Printed here with permission of the author.