Among other things, 2016 has been a big year for literary Pittsburgh (there are so many excellent new bookstores to visit!)… and a big year for books in general. Looking back on our "year in reading," we wanted to highlight the titles that were most memorable for us as readers — the books that got us talking, the books that we loved… and we asked Pittsburgh's indie booksellers for their picks as well!

Part One

If you're shopping for a book lover, we've been posting chapters from the books of local and touring authors all year, so be sure to check those out for more ideas.

A huge thanks to City Books, Mystery Lovers, City of Asylum Books at Alphabet City, White Whale Bookstore, Nine Stories, and Penguin Bookshop for sharing their years in reading… Please join us in supporting our fabulous local booksellers this holiday season, and let us know your favorites of 2016 on Facebook and Twitter!
My first year as a bookseller has been amazing, there has been so much to learn. I'm delighted to carry on the City Books legacy in Pittsburgh and to extend its local reach to the Northside.
I read mostly non-fiction this year in advance of author events held at City Books. My top selections are all local writers with far-reaching topics and influence: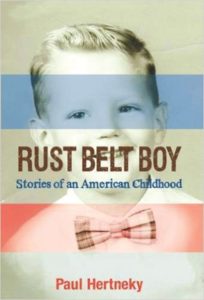 Rust Belt Boy by Paul Hertneky
Rust Belt Boy by Paul Hertneky is a memoir about a second-generation American growing up in Ambridge. With laid-back, intimate style, Hertneky invites the reader on a familiar journey through Laughlin Memorial Library, the Divine Redeemer cafeteria, and the millwright's shed at Armco Steel. Every step of the way, I felt like I was part of the family, part of the community. A working-class counterpoint to Annie Dillard's early years in Point Breeze, Hertneky's childhood will resonate with members of the Black & Gold diaspora across the country.
Start reading Rust Belt Boy right here on Littsburgh!
---
Death by Cyanide by Paul Reed Ward
Death by Cyanide is Paul Reed Ward's account of the 2013 murder of Dr. Autumn Klein. Ward, the reporter for the Post-Gazette who covered the story, simplifies complicated medical and legal jargon while connecting the lurid facts of the crime and trial to the dynamic lives of Ferrante and Klein. There is much more in this book than made it into the papers; stories of Klein's dedication to her patients makes me miss a woman I never knew. Although I don't usually gravitate to true crime, because the case was local and so recent, I couldn't put this book down. Ward has a great voice and I look forward to future books.
---
Prisoner 88 by Leah Pileggi is historical fiction inspired by a ten-year-old boy who served time in the Idaho Territorial Penitentiary in the 1880s for shooting the man who threatened his father. Geared toward ages 11-14, Prisoner 88 is an endearing, suspenseful read suitable for all ages. Although I read it in an afternoon, Jake's story has stayed with me for months. It was actually published in 2013, but because I sell used books, it was new to me.
---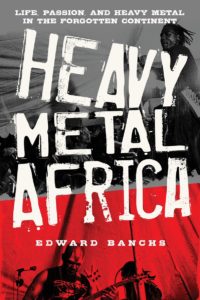 Heavy Metal Africa by Edward Banchs
Heavy Metal Africa by Edward Banchs is part scholarly investigation, part travelogue. Told as a first-person narrative, this quest to discover the heavy metal scene details the lives and passions of musicians struggling to navigate the infrastructure, politics, and resources of what the author calls "the forgotten continent." I am pretty sure I'll never get to Africa, but now I feel like I've been there — and seen it with an insider's eye. Getting rave reviews locally and around the world, Heavy Metal Africa appeals to all music lovers regardless of genre, and to anyone who has ever suffered from insatiable wanderlust



Adlai & Jill Yeomans @ White Whale Bookstore
We've been really excited about The Mothers, a debut novel by Brit Bennett, which was one of our book club picks that everyone loved. It's about a grief-stricken young woman living in California, and the repercussions one of her choices has on her small community. The prose is layered and beautiful, and it's a one-sitting read.
"Delivers lines that you'll want to savor and read out loud — because it's a story about secrets and betrayals, and part of the pleasure is your own sighs and gasps. It's both intimate and epic in scope. . .It hums along at a brisk, emotional pace — the kind of story that feels like it's moving fast, but really, it's moving deep." – NPR
---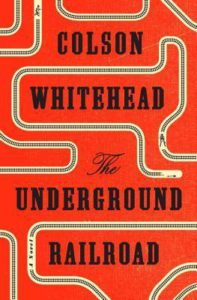 The Underground Railroad by Colson Whitehead
The Underground Railroad is another favorite that has been flying off our shelves. Colson Whitehead has said that he sat on this idea for over a decade until he had become a good enough writer to do it justice, and it was worth the wait. It's about a slave girl's journey to freedom, but Whitehead adds elements that aren't true to history–the railroad is literal, with actual trains and tracks–and his choices are effective and smart. The book is a commentary about Black voices being lost to history, and it works hard to reclaim that narrative. It won the National Book Award this year, and rightfully so — this is an important book.
---
We Show What We Have Learned by Clare Beams
And then there's our hometown hero, Clare Beams. We can't say enough good things about her short story collection, We Show What We Have Learned, which we pretty much push on everyone we meet. Joyce Carol Oates said it best when she compared these stories to both Shirley Jackson and Alice Munro. Deliciously unnerving.
"Clare Beams has written a dazzling story collection—as if, by a rare sort of magic, Alice Munro and Shirley Jackson had conspired together to imagine a female/feminist voice for the twenty-first century that is wickedly sharp-eyed, wholly unpredictable, and wholly engaging." – Joyce Carol Oates
Start reading We Show What We Have Learned right here on Littsburgh!
---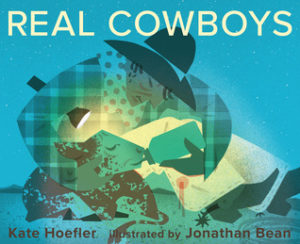 Real Cowboys by Kate Hoelfler (Illustrated by Jonathan Bean)
Lastly, we've been thrilled with the new picture books offerings this year. We dare you to read Real Cowboys, about the necessity of being kind, and calm, and sensitive, even if you're tough, to a young impressionable mind and not tear up. And Francesca Sanna's The Journey is a great read for helping kids understand the current refugee crisis. It tells about one family's journey in simple terms. It helps that the artwork for both of these books is stunning, too.



Lesley Rains @ City of Asylum Books at Alphabet City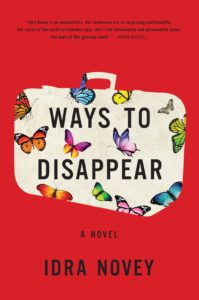 Ways to Disappear by Idra Novey
I read Ways to Disappear by Idra Novey soon after it was published in February of this year. It immediately became an early frontrunner for my favorite book of the year… it's one of the most original books I'd read in a long time. Ways to Disappear centers around a Brazilian author, Beatriz Yagoda, who disappears after climbing up a tree. Emma, her American translator (who lives in Pittsburgh), feels compelled to search for Beatriz and undertakes a journey that ultimately yields dark family secrets, financial debt, and an international crime syndicate. Ways to Disappear also manages to be very, very funny. Novey's skillful prose and the questions she asks about translation, truth, and (mis)representation create an unrelenting momentum. It's literary fiction, a zany, madcap adventure and a crime noir. I could not put it down.
---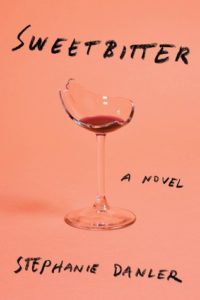 Sweetbitter by Stephanie Danler
​Sweetbitter is a familiar story: a young, idealistic woman arrives in New York City — with no friends and no money — looking to build a new life for herself. She lands a job as a backwaiter at a pricey, popular Manhattan restaurant. Danler's writing is superb; she fully realizes the chaotic, adrenalized world of high-volume restaurant service. She also nails the heartbreak that ensues after hopeful expectations collide with disillusionment. Sweetbitter belongs alongside Kitchen Confidential and Bones, Blood, and Butter as a compelling restaurant narrative.
---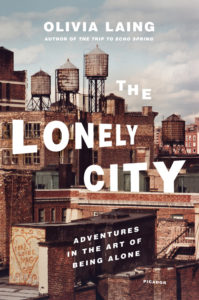 The Lonely City by Olivia Laing
The Lonely City is both a memoir about and cultural history of loneliness, especially the particular kind of loneliness one feels when they are in a new place, surrounded by strangers. Laing weaves her own tale of urban isolation (after moving to New York from her London to live with her boyfriend, he promptly leaves her) with an examination of how loneliness is depicted in art, literature, and film. She unpacks the work of Edward Hopper and Andy Warhol, among other cultural figures, to divorce loneliness from a sense of failure it engenders into a meaningful, lived experience. If you enjoyed Susan Cain's study of introversion, Quiet, you'll enjoy The Lonely City.
---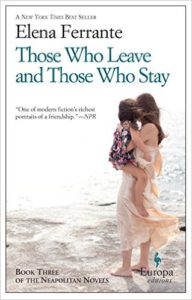 Those Who Leave and Those Who Stay by Elena Ferrante
Most of my reading time was devoted to the four books that make up Elena Ferrnate's Neapolitan Quartet. All were stellar, but the third book had a particular, unrelenting urgency that took my breath away. The four books tell the history of contemporary Italy through the lives of two friends, Elena Greco and Lila Cerrullo. Those Who Leave and Those Who Stay finds the two women well into adulthood, struggling to balance marriages, jobs, children, and their own sense of fulfillment. Thanks to Ferrante's unique style of writing, female psychology, and the psychology of female friendships in particular, effectively mirror Italy's post-war political and socio-economic turmoil.
City of Asylum Bookstore at Alphabet City is opening for business in the new year!




Natalie Sacco @ Mystery Lovers Bookshop
This year was all about the classics. We revisited some of the masters of the crime and mystery genre, and – not only are they great reads – they are loved at the shop with customers picking up handfuls at a time.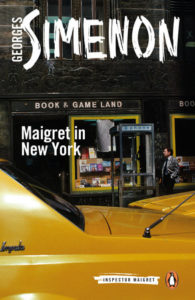 George Simenon's Inspector Maigret Novels (Re-issues)
For the past few years Penguin Random House has been reissuing (with new translations) George Simenon's Inspector Maigret novels, which were originally published in French beginning in the 1930s. Simenon wrote 75 Maigret novels and 28 Maigret short stories, which is insane! The new cover treatments caught our eye, and we quickly became obsessed. These short novels may be early works of detective fiction, but "detection" really isn't the main point of the story. While the stolid Maigret always cracks the case (hitting a few bars along the way) the main takeaway of these books is the crime and the characters; not the process of solving the mystery. Simenon was much more interested in exploring the characters and the world they lived in. Simenon himself has a fascinating history that is worth reading about, but in the meantime pick up any of the Maigret books (you don't have to read them in order!).
---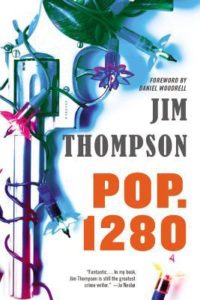 Assorted Novels by Jim Thompson
Another favorite of ours from this past year would be the work of Jim Thompson author of The Grifters, Pop. 1280, The Killer Inside Me, and more. Thompson's hard-boiled crime fiction saw new popularity when his work re-issued in the 1980s. Similar to Simenon's novels, Thompson's focus was on character. Nicknamed "Dimestore Dostoevsky" his books often read from the perspective of the criminal, and are usually a bit harrowing and surreal.
---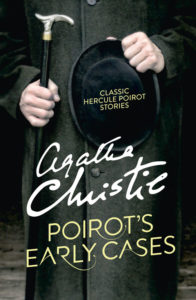 Agatha Christie (Re-issues)
Finally, we can't forget Agatha Christie! The Harper Collins' re-issued Christie novels are gorgeous, and have helped introduce new readers to the Queen of Mystery. We often see customers purchasing titles for children and grandchildren. Christie's beloved and iconic characters have stood the test of time, and Hercule Poirot is seeing a bit of a resurgence with Sophie Hannah's commissioned continuation of the series that started with The Monogram Murders. It's good to know that Poirot and Miss Marple aren't going anywhere anytime soon



John and Allison @ Nine Stories Booksellers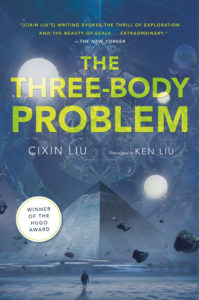 The Year of (Mostly) Science Fiction
John: I had a pretty sci-fi heavy year — we were really excited to get the new Penguin Galaxy editions in at the shop, and I decided to start with Ursula K. LeGuin's The Left Hand of Darkness. I also finally got around to Cixin Liu's The Three-Body Problem, and I'm probably going to start 2017 with the second book in that trilogy. And then there were graphic novels, like Descender and the latest trade paperback of Saga (maybe I'm gearing up for the Nebula awards coming to Pittsburgh in May 2017!)
Additionally, I liked a few of this year's "big books" (Underground Railroad and Moonglow), and was severely unnerved by two other novels I read, Paul Kingsnorth's The Wake and Michael Cisco's The Narrator.
---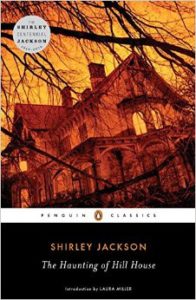 In Celebration of Shirley Jackson's 100th Birthday
Allison: Shirley Jackson is one of my all-time favorite authors, and this year would have been her hundredth birthday, so in October I decided to make The Haunting of Hill House my spooky read for the month. It's the perfect haunted house story. I also picked up a copy of Clare Beams' We Show What We Have Learned, which I'm sure we'll see on a few lists this year!
Two awesome trades came in recently that I had to read before they made it to the shelves: Box Brown's Andre the Giant: Life and Legend, which is a simply-illustrated and surprisingly poignant graphic biography, and The Collected Stories of Breece d'J Pancake.



Susan Hans O'Connor and staff @ Penguin Bookshop
This was an interesting year (to say the least…)! At the Penguin Bookshop, our customers were drawn to an extremely varied list of books. From Hillbilly Elegy to When Breath Becomes Air on the non-fiction side, to The Underground Railroad and Moonglow on the fiction side.

Here are a few Penguin bookseller favorites: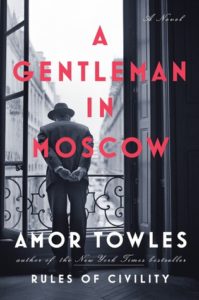 A Gentleman in Moscow by Amore Towles
"A charming story, and refreshing to read about a character who maintains dignity, grace and good manners, no matter how challenging his circumstances. Seems especially inspiring for those of us scarred by the election and a society which now seems to promote rudeness… Who knew that a book celebrating manners and decent behavior would seem like escapist fiction?" – Lisa, Bookseller @ Penguin Bookshop
"In his second elegant period piece investment banker turned novelist Amor Towles continues to explore the question of how a person can lead an authentic life in a time when mere survival is a feat in itself… Towles's tale, as lavishly filigreed as a Fabergé egg, gleams with nostalgia for the golden age of Tolstoy and Turgenev… reminding the reader that though Putin may be having a moment, it's Pushkin who's eternal." — O, The Oprah Magazine
---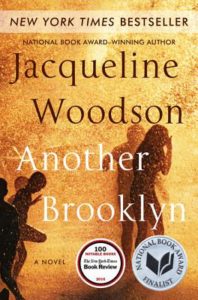 Another Brooklyn by Jaqueline Woodso​n
​"Quiet yet compelling and beautiful…."​ – Mary, Manager @ Penguin Bookshop
From the publisher: "The acclaimed New York Times bestselling and National Book Award–winning author of Brown Girl Dreaming delivers her first adult novel in twenty years.
Running into a long-ago friend sets memory from the 1970s in motion for August, transporting her to a time and a place where friendship was everything—until it wasn't. For August and her girls, sharing confidences as they ambled through neighborhood streets, Brooklyn was a place where they believed that they were beautiful, talented, brilliant—a part of a future that belonged to them.
But beneath the hopeful veneer, there was another Brooklyn, a dangerous place where grown men reached for innocent girls in dark hallways, where ghosts haunted the night, where mothers disappeared. A world where madness was just a sunset away and fathers found hope in religion…"
---
"Ok, maybe I'm a bit biased because Kate came to the store and she was awesome, but it's a great reading book — smart, funny, and heartwarming.​" – Stefanie, Storytime Leader @ Penguin Bookshop
From the publisher: "Introducing an adorable fox family, where the older brother is sweet…and a bit of a stinker. But whether he gets along (or doesn't) with his baby sibling, whether he is helpful (or not) to his family, or whether he behaves (or doesn't) when it's time to settle down, his Mama is always right there to reassure him that, 'No matter what you do, you will always be my boo.'"
---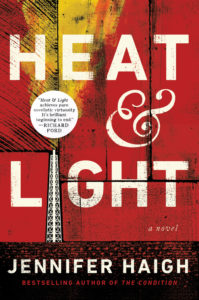 Heat & Light by Jennifer Haigh
"Heat & Light reintroduces the reader to Bakerton, a town which has experience an economic depression for decades after the coal mines closed. Now energy companies from Texas are leasing the land for natural gas fracking. Filled with the tension between preserving the environment and boosting the local economy, Haigh's account is a must-read which sheds light on the difficult decisions faced by families, frackers, and corporate entities." – Kristin, Bookseller and Buyer @ Penguin Bookshop
From the publisher: "Acclaimed New York Times bestselling author Jennifer Haigh returns to the Pennsylvania town at the center of her iconic novel Baker Towers in this ambitious, achingly human story of modern America and the conflicting forces at its heart—a bold, moving drama of hope and desperation, greed and power, big business and small-town families."
---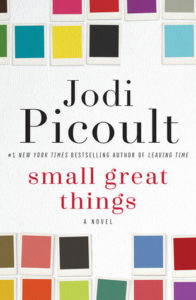 Small Great Things by Jodi Picoult
"Known for novels that explore the nuance of an ethical dilemma, Picoult explores racism, stereotypes, and assumptions in her newest book." – Kristin, Bookseller and Buyer @ Penguin Bookshop
From the publisher: "With incredible empathy, intelligence, and candor, Jodi Picoult tackles race, privilege, prejudice, justice, and compassion—and doesn't offer easy answers. Small Great Things is a remarkable achievement from a writer at the top of her game…"
"Small Great Things is the most important novel Jodi Picoult has ever written…. It will challenge her readers… [and]expand our cultural conversation about race and prejudice." — The Washington Post
---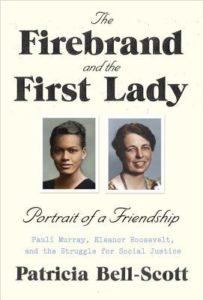 The Firebrand and the First Lady by Patricia Bell Scott
"Pauli Murray, a poet, activist, lawyer, and priest, shared an important friendship with Eleanor Roosevelt. The friendship began when Roosevelt served as First Lady and continued until her death. Scott examines their friendship through their letters and allows the reader a glimpse into the lives of two important women of the twentieth century. – Kristin, Bookseller and Buyer @ Penguin Bookshop
From the publisher: "A groundbreaking book—two decades in the works—that tells the story of how a brilliant writer-turned-activist, granddaughter of a mulatto slave, and the first lady of the United States, whose ancestry gave her membership in the Daughters of the American Revolution, forged an enduring friendship that changed each of their lives and helped to alter the course of race and racism in America."
---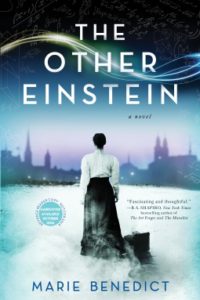 The Other Einstein by Marie Benedict & Other Notables
"Marie Benedict is a local Sewickley author who has a real talent for historical fiction and has taken on writing about the invisible women behind famous men.
Also notable in 2016: Heat & Light by Jennifer Haigh (seconding Kristin — Jennifer is a great fiction writer and this is a beautiful novel about… Marcellus Shale) and Swing Time by Zadie Smith.
There are certain writers I feel are worth reading even when the work is a bit flawed. Swing Time is not a perfect novel, but Smith is so compelling, I think this is worth reading… Race, identity, privilege are all explored with Smith's usual brilliance and unflinching eye." – Susan Hans O'Connor, Owner of Penguin Bookshop
Be sure to play Pittsburgh Bookstore Bingo (courtesy of Karen's Book Row) while you're doing your holiday shopping! The prize? The journey!