Did you know that the term "speakeasy" was coined in Pittsburgh (by Kate Hester of McKeesport)?

We didn't either!

It turns out there was a lot we didn't know about Pittsburgh's role in the golden age of cocktails. If you're like us, you'll want to pour yourself a "Fussfungle" or a good, old-fashioned Braddock Highball — not so strong that you end up fighting in church — and check out this excerpt from Pittsburgh Drinks: A History of Cocktails, Nightlife & Bartending Tradition!

From the publisher: "Pittsburgh's drinking culture is a story of its people: vibrant, hardworking and innovative. During Prohibition, the Hill District became a center of jazz, speakeasies and creative cocktails. In the following decades, a group of Cuban bartenders brought the nightlife of Havana to a robust café culture along Diamond Street. Disco clubs gripped the city in the 1970s, and a music-centered nightlife began to grow in Oakland with such clubs as the Electric Banana. Today, pioneering mixologists are forging a new and exciting bar revival in the South Side and throughout the city. Pull up a stool and join Cody McDevitt and Sean Enright as they trace the history of Steel City drinking, along with a host of delicious cocktail recipes."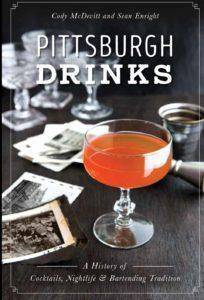 In 1901, a newspaper editor sent a reporter to a speakeasy on Pittsburgh's South Side to see whether it had police protection and to write about such establishments as one of the city's evils.
When the reporter arrived at the scene, he saw a police officer standing a block away from the establishment, watching men and women walk in freely.
The speakeasy had no password, no need to verify if someone was the law or not. People came and went without speaking to an employee through a slot opening. It contradicted the perception of speakeasies as being secretive and subversive.
In the speakeasy, the reporter saw a well-furnished and nice interior, with the only eyesore being the two black eyes of the female bartender, which had been left on her by a previous patron.
The speakeasy culture had started a little more than a decade before in the city and had started in western Pennsylvania long before it became a well-known term during Prohibition.
Speakeasies arose after the passage of the Brook's High License Law, which was enacted in 1888. The legislation raised the cost of a saloon license to $500—a hefty price that most people couldn't afford to pay if they wanted to sell alcohol.
Speakeasy was a term coined in Pittsburgh by Kate Hester of McKeesport. She defied the law, and many of her customers were a boisterous lot, according to a New York Times account.
When they got too rowdy, she would approach them with a raised finger and an awe-inspiring look while telling them to "Speak easy, boys! Speak easy."
The expression became common and spread to Pittsburgh, where the newspaper reporters used it in reference to all illicit establishments run by people unwilling to pay the license fee.
"Some day, perhaps, Webster's Dictionary will take it up," the Times said about the word in the 1890s.
Even if saloonkeepers had the money, the licenses were hard to come by. Licenses were not granted on charity. People who received them had to be seen as strong and important members of society—that and a few connections would help.
Hester, of McKeesport, applied for a license, but her application was defective. She was given a hearing where she produced a letter from her pastor giving her a good name.
In sheriffs' sales, saloons that went out of business would be sold along with their licenses.
"There is considerable hue and cry over the large number of sheriff 's sales of saloons," a courthouse official told the Pittsburgh Daily Post early in the speakeasy era. "The great trouble with the saloonkeeper is debt. Many of them go into the business with a big debt hanging over them."
Saloonkeepers would face liens of up to $10,000 once they secured a liquor license. The brewers or wholesale liquor dealers who supplied them alcohol held the liens.
"I tell you the saloon business is getting worse everyday [sic] instead of better," George Mashey, a well-known downtown saloonkeeper, said. "The fellows that are sold out by the sheriff are the victims of poor business, and that is all there is to it. The great obstacles the licensed saloonkeeper must contend with today are the clubroom and the speakeasy. They are flourishing, it seems better now than they ever did."
Because saloons were cost prohibitive and difficult to get a license for, speakeasies became the predominant establishments where people drank.
Speakeasies changed the drinking habits in Pittsburgh. Saloons were not places of public drunkenness. And they closed at a certain time. So there was a limit to how intoxicated a man could get while in a bar. One government agent said in 1890:
Speakeasies are the cause of a great deal more drunkenness than legitimate saloons. When a man goes into a resort of this kind, he will usually remain there long enough to imbibe a half dozen glasses of liquor, and stay until he gets drunk.
The patrons of these places are mostly mill men and employees in factories who have been in the habit of going to a saloon, taking a drink and walking out. Now they will be found loafing in these places.
In Pittsburgh's early nightlife, bartenders, saloonkeepers and speakeasy proprietors showed a penchant for creativity.
Cocktails were popular throughout the pre-Prohibition speakeasy era. Most cocktail historians peg the time falling between 1860 and 1930 as the golden era of cocktails. Pittsburgh was no different from other major metropolitan areas in following trends set elsewhere.
The newspapers of the time carried accounts of what drinks were popular in cities like Chicago and New York City. Their ingredients often accompanied the cocktails' names. Bartenders in the city would read the accounts and make them for their customers.
In a number of advertisements for produce and groceries in the late nineteenth century, the innovation undertaken by local barkeeps was mentioned.
They would market fresh ingredients, such as pineapples and strawberries and other things, to muddle into their drinks. The use of turnips by bartenders appeared in one account.
As early as 1870, fancy drinks were revealed as popular features at local saloons. A drink called a "Red Planet," with unknown ingredients, was singled out in the newspaper as one of the most popular beverages in the city.
In a 1902 Brooklyn Daily Eagle article, the reporter said a new drink had been introduced to New York City from Pittsburgh. It was called the "Fussfungle" and had been created in McKeesport.
The cocktail included pure spirits, water, burned brown sugar and molasses. The Slavic people invented it, and it was highly alcoholic. It was said to cause fights in church. The Daily Eagle said:
With a few pints of this delectable compound circulating through his system the merrymaker takes joy in shooting holes through the persons of his family and choicest friends.
He is ready to carry an election with it, or to dance down the strongest set of legs in his social circle, or to get up a strike, or to burn his house, or to do almost anything else that will express his high vitality and joy. The only trouble about it is that the police will not always let him.
The mayor of McKeesport tried to persuade his parishioners to avoid the drink and imbibe gin. Nevertheless, the Fussfungle became a nationally popular drink and was compared in popularity to absinthe, the prevailing drink in France.
Another drink that became popular locally was the Braddock Highball. It was built on the lines of an ordinary highball, but it had a splatter of vinegar, a sprinkle of pepper, a pinch of salt and a dash of ginger.
"The Braddock highball is more entangling than the McKeesport Fussfungle, and the man who sticks to it will probably feel as rich as a billionaire, but will feel correspondingly poor when he gets sober," said the Green Goods Man, a special commentator who frequently described cocktails in the Pittsburgh Daily Post during the turn of the century.
Though there was strong opposition from dry forces against drunkenness, there were also citizens who thought speakeasies served an important function in the city.
David Lauber, who owned Newell's Old Stand on Fifth Avenue, told a newspaper in 1890 that he thought speakeasies unburdened saloons from having too many customers.
"This city is a great place for drinking. So far as I am personally concerned, I do not object to speakeasies, because they take a certain trade that I don't want," Lauber said. "The relief from the surplus of speak-easies will be found in more saloons well distributed."
A Smithfield Street saloonkeeper even told the newspaper that he would gladly see half of his customers go somewhere else to get their drinks because it was impossible to attend to their wants properly.
He said he would rather sell less and have more room. He had four bartenders in a place that was fit for three.
The west end of the city did not contain any licensed saloons, but it had more speakeasies than any other neighborhood.
A judge told a reporter that the reason he refused a license to residents in that part of town was he did not think anyone in the area was competent enough to conduct a saloon.
The South Side became a very profitable place for speakeasy owners. There were four mills there, three glass houses and manufacturers of other sorts. When the saloons closed, the employees started visiting the speakeasies.
Speakeasies were open on Sunday, which often offended the religious temperance leaders, who were amassing power in the years before Prohibition.
Some of the speakeasies were places of squalor. On Spruce Alley, between Thirtieth and Thirty-First Streets, officers puked when entering the area because it smelled so bad. It was operated by Mrs. Bessie Shea, a widow.
The alley near it was swarming with men, women and children, all mixed together in mud up to their ankles. There were a thousand people there, according to the Daily Post. Dissipated men were cursing half-clad children as they picked their way through the mud puddles. All ages and genders were drinking at the party. Mostly women operated the row of houses. Most of the boys in the South Side went to Lower St. Clair Township to party. People couldn't go a few blocks without seeing a crime committed. Young women were brought there and gotten drunk.
Father Fisher, a pastor, had heard of the depravity in Lower St. Clair Township. "Why there is one man who is said to be, on good authority, at the same time both father and grandfather to a 17-year-old," Fisher said. "The place certainly needs to be morally purged, but I do not like to see it done in any unlawful and violent manner. The whipping post would be a good thing for some of these people, however."
When a man brutally beat his wife, a group of men showed up at his house to teach him a lesson. The man was severely flogged.
Kegs and beer stands were kept in yards instead of hen houses. People were often shot upon entering an establishment.
There would be fights and murders, rabble and ruffians outside many speakeasies. The city's reputation for toughness started in the speakeasy era…

This excerpt is printed here courtesy of Arcadia Publishing. All rights reserved. No part of this excerpt may be reproduced or reprinted without permission in writing from the publisher.