If you're always on the lookout for podcasts to binge, here's a hot tip: Cover to Credits is a new, Pittsburgh-based podcast in which hosts Ian George and Adina Hilton discuss books and their movie adaptations!

You can stream Cover to Credits online at covertocredits.com… and episodes are also available on iTunes and Google Play.

Check out our Q&A with Adina below – and don't forget to subscribe!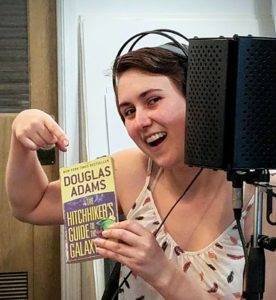 Why make a podcast about book to movie adaptations?
We share a love of books and movies, and we've spent a lot of time talking to each other about both. I'm definitely one of those people who likes to talk about what's left out or changed in book to movie adaptations. During one of our conversations, Ian had the brilliant idea to turn our discussions into a podcast, and we fell in love with the concept. It's been amazing to see that idea become a real podcast! We're enjoying the positive response we've had from listeners as well as recommendations we've received for episodes, such as the request to cover The Handmaid's Tale, which we did in our sixth episode!
How are the episodes set up/how do you pick episodes?
Cover to Credits publishes new episodes biweekly. For each episode, we discuss a book and the movie/tv show adaptation at the same time. We start with an introduction to the material and then we get into the plot of the story and the differences between the two mediums. We try to give enough explanation so that listeners who may not have read the book or seen the movie can still follow along and enjoy the episode, while also thoughtfully examining what sets the two apart. It's easy to say that "the book is always better," but we really try to figure out what works and what doesn't in the book and movie. At the end we both pick which one we like more; sometimes we agree, but other times we don't and that can be even more interesting than when we agree! We like mixing it up with episodes, doing a popular book and then an obscure one, a comedy followed by a thriller, etc. Each episode can be really different since the books and movies are so different from each other, and that's exciting because we're doing a new type of episode each time.
How do your day jobs influence Cover to Credits?
I work in a library, which explains my passion for books. One of my favorite things to do at work is to recommend books to customers, or to talk about a book with someone. When you get a chance to discuss a book beyond just whether you like or dislike it, the experience becomes so much more enjoyable and thought provoking. Being around books all the time at work gives me tons of ideas and inspiration for podcast episodes!
Ian is a graphic designer at an agency called Actual Size. Not only is he able to bring a design sensibility to materials such as our podcast cover image, but he has more of an eye for film in terms of cinematography and visuals. He will also be designing a new website for the podcast that will be coming up in the near future.
What makes a good adaptation?
It's important to think of the book and movie as two separate things. I think adaptations succeed when they're not afraid to take risks and to remake the material into something new. At the same time, the changes you make have to make sense to the story and be true to the characters. Sometimes an author will serve as a consultant or even write the screenplay, and there are great movies from that collaboration, but it doesn't guarantee a good adaptation. It's also important that the filmmaker uses the advantages that film provides, such as conveying information and tone visually when possible. This question is definitely something we're figuring out on our podcast, so tune in for a lot more discussion on this topic!
What's your favorite adaptation?
My favorite adaptation is The Girl with the Dragon Tattoo (American movie version). The book is amazing, and the movie perfectly captures its dark and suspenseful tone. Rooney Mara's outstanding performance and David Fincher's unique directing style combine to make an unforgettable movie.
Ian's favorite adaptation is Harry Potter and the Half Blood Prince. This movie brought the series back to some of its more humorous, school related elements after two darker movies, yet concludes in a more emotional, character driven manner than many of the other Harry Potter entries. It's also the peak of David Yates' directing power in the series.
How can listeners get involved?
We love listener feedback! Our episodes are conversations, with each other and with our listeners. Opinions on books and movies range wildly, and we'd love to hear other people's thoughts on what they liked or didn't like. We also like to incorporate listener requests for future episodes!
You can connect with Cover to Credits: A Podcast by Ian George and Adina Hilton on Twitter and Facebook, and send all fan mail to covertocreditspod@gmail.com