Littsburgh is thrilled to be able to share a first chapter preview of I'm Yours by Pittsburgh's Carolyn Menke, available December 16th!

The prequel to Menke's Return to Me (" sweeping, romantic debut that brings the war-time forties to vivid life" — RITA Award-winning author Gwyn Cready), I'm Yours tells the story of Audrey McCall, a Roaring Twenties "starlet who's as irresistible as the illegal booze poured behind every shuttered speakeasy…"
Chapter One
Edward
1924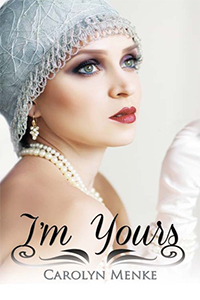 Edward Stark filed the last of the campaign paperwork, deciding everything else could wait. Then he wrestled into his overcoat at his law office and palmed his fedora. He hesitated before placing it askew on his head. Would Audrey say yes? Maybe not tonight. Maybe not tomorrow. But soon, he hoped. She'd say yes to dinner, that he was sure of. And, he knew just the place.
As his feet carried him to the elevator, he pictured her glowing, candlelit face across the table from him at the Liberty Tree on Rittenhouse Square. Those painted theater lips and the cool blue of her eyes that carried every hue of a peacock plume, had him on the precarious edge of reason.
Every single time.
It's why the dizzying woman never left his mind and made him reckless. With a boyish impulse, he reached for his pocket watch. He had time to surprise her at rehearsal to see if she'd like that bite to eat.
Edward strolled over the cobblestone streets of Philadelphia's Theater District, closing his collar to the bite in the wind. The sleek box of Chanel No. 5 he'd picked up during his lunch break weighed down his right pocket. He grinned imagining the shine in Audrey's eyes and the tilt of her head as she spritzed the scent on her neck. A scent that was daring and fresh like the feelings she aroused in him. That she noticeably aroused in any man. But she was his, and he whistled the tune he hadn't been able to get out of his head—her tune. Honey I'm Yours.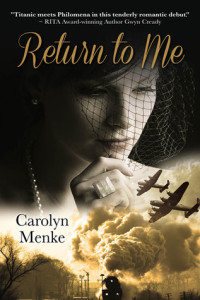 Hey there fella…
Don't you sigh…
My biz is your biz…
We'll get by…
He entered the Karlton Theatre and swept through the marbled, gilded foyer, eager to find Audrey. But the actors were gone. The stage crew milled about, adjusting lighting. Disappointed that he'd missed her on stage, he ducked around back and rapped on her dressing room door. Nothing. When he opened the door that led to a stairwell down to the street, he caught the echo of clicking heels and a flash of her golden cashmere coat before she disappeared with her roommate.
"Audrey!"
The door slammed. The February wind drowned his voice; he scrambled down the stairs and called to her on the street. On Chestnut, she and her friend parted ways. She veered right, free as a bird, and as mysterious as the soulful chords floating out through the cracked doors of every shuttered establishment.
Traffic separated them at the corner.
When she was a block away, his stomach clenched. Where was she headed in such a hurry? And why was she wearing that snug cloche hat—not the one with the jeweled hatpin that he'd given her? As he stood on the corner, slack jawed and muddled, another thought streamed into his mind. Was she hiding something from him?
By and by, oh honey oh my…
You drive me crazy…
But baby let's try…
The lyrics helped ease a tightness in his chest. He'd pay their rent, get them an automobile—whatever made her happy. Only problem was, he was ready to give her a world that he wasn't sure she was ready for or would ever want. But he had to try. Tomorrow. Two blocks later he debated running to catch her. Dear God, what was wrong with him?
She paused near the Claybourne's side entrance, and glanced around, her gloved hand resting on the metal rail. Seconds later, she slinked down the stairs that led to the cellar of the old hotel.
Now he knew where she was headed, but he needed to know why.
His pulse quickened.
Read the first chapter of I'm Yours by @carolynmenke!
Click To Tweet
He wasn't too late to join her, but he'd have to wait, per the proprietor's rules. Small groups every five to eight minutes. Don't draw attention. He lingered on the street corner, cupped his hand around a flame to get a cigarette started, then took his first real drag. He streamed smoke out the side of his mouth.
With the cigarette pinched between his lips, he paced away from the Claybourne and reached for the warm metal of his pocket watch to see how much longer he had to wait. It was a quarter 'til. Five minutes more of wondering why in the devil Audrey went to this speakeasy without him as if she were just another bona fide flapper, like those two ladies dressed in short dresses that revealed stockings rolled under their knees huddled caddy-corner to him.
To hell with the beat of his spit-shined plan to surprise her with a romantic dinner; when it came to Audrey, he'd gotten ahead of himself again. He clamped his teeth to ward off their involuntary chatter. His nerves were getting the best of him.
A few sideways glances and another snuffed cigarette later, he headed down the stairs, through to the back door, the ladies on his heels. The proprietor, a man who'd once paid him cash in a paper bag in exchange for legal advice—if you could call it that—wasn't the sort he liked to associate with any more. Edward's campaign work for Kendrick, the newly elected mayor, had elevated his role in politics. But Audrey was in there, and if the place got raided, she'd need his help.
After rapping on the door and ready with the code word, a stocky man directed Edward with a jerked thumb. Edward strode toward the throb of the music coming up through the soles of his shoes. He and the two ladies funneled into the blast of warmth, immersed in a stream of irresistible shoe-tapping jazz that vibrated his jaw—the whole joint charged with energy, an energy he knew was dangerous to love, just like her. Everything in this club was on the other side of the law, and on another side of Audrey he couldn't pin down. Was this her secret pastime or was she simply getting into character for her role? In any case, her elusiveness sparked intrigue, spelled passion, and if he wasn't careful, might be the death of him. The raspy song of the saxophone, played by a bald-headed Negro on the edge of the crude stage was punctuated by the deep sinister tone of a trombone, at the clutches of a musician in back.
He scanned the room. The fresh face of every rouged girl blended into the next, mocking him because they weren't hers. A trumpet's stately introduction cast Edward's attention to the stage. He knew she was here.
Edward moved through the crowd, pushing his way, clenching his teeth in irritation that he couldn't find her, until he reached the back counter.
"What'll it be?" The barmaid lined up glasses and sloshed the precious gin into them.
Edward nodded to the glass on the end, slipped her three dollars, and emptied it in one gulp. He nodded for another. This time he let the first swig settle on his tongue, enjoying the licorice taste before swallowing.
As if summoned by his will alone, Audrey appeared at his side, took the drink from his hand and sipped it. She gave him a lazy smile. "There you are, honey. What a surprise."
"Audrey. Why are you here? Alone?" He sounded desperate. He didn't care.
"I could ask you the same." She guzzled the rest of the liquid gold and slammed the empty glass on the counter. Her voice dripped like honey from a hive. "Care for a highball?"
Edward frowned. "High ball, low ball—I don't care what kind of ball. No."
"If you're worried about the moonshine, don't be." She tiptoed her fingers up his chest. "I'll let you know before I hallucinate."
Again he debated: was this his Audrey or the character she played on stage? "It isn't safe here." He grabbed her hand.
Her tinkling laugh gave way to a sly smile. She raised her cigarette and hiccupped. "Sure it is. I like it here, Edward, don't you?"
"Not particularly." He raised his lighter in front of her awaiting lips but didn't flick the flame. He wasn't sure he could share her with the likes of this joint for one cigarette more.
"Well, I do," she said. "This place strips everyone of who they think they ought to become and lets them just be. Everyone's less stiff and concerned about who's who. You understand, right, Edward?"
He lit her cigarette anyway, and resisted the urge to cover up her bare, luminous upper arms with his coat. "Are you saying we're all pretending until we walk inside this club?"
"I'm saying it doesn't matter how rich or poor you are, under the spell of the music, we're all the same."
He leaned into her. "And after we walk out that door?"
"We don't talk about leaving while we're here. That's number one."
"What's number two? You and me, far from here?" If she wanted to dance all night it was worth the risk of getting pinched as long as he was the one filling her card. He had to admit, right now her feistiness spelled sexy.
"Say…" She closed her lids, swaying to the beat of the band. Her cheeks hollowed when she sucked on her cigarette. Then she smiled, a flush coloring her face in all the right places. "You mean to tell me you'd rather have a boring steak down at the ol' Liberty Tree instead of dance on a table here?"
He grazed a thumb along her jaw. "Honey, I'm yours," he said, but the words felt flat and dull like the dark walls of the illicit joint. Three huddled men blocked the only way out. "Come with me. We can go anywhere you like."
"Anywhere?"
Hearing her sultry tone took him back to their picnic in the country one lazy afternoon, on a day made just for them, when campaign agendas were far from his mind.
"I came here for a reason and I'm not leaving. Rex Wyatt, an accomplished writer, invited me." She wiggled a finger at a nearby table and lowered her voice. "And you better believe I'll put on a show for him."
"Who?"
"Wyatt."
"Never heard of him." Edward lit a cigarette then raised his chin in greeting at the man who was studying him. Who the hell did he think he was, inviting Audrey here? Audrey's purse was slung on the chair beside him. When Edward shifted to make room for a slew of ladies headed to the bar, he turned his back on this Wyatt fellow, blocking the man's view of Audrey, a sinking feeling gnawing through him. She had her own mind, a twenty-three-year-old woman of the new decade, and he wasn't sure what to do about it.
She said, "He's not in the literary mainstream, if that's what you mean. But, Wyatt told me he has stories in Vanity Fair and he's talking to a publisher. Alfred A. Knopf."
"He has stories or that's what he told you?"
"Don't, Edward. He's not some cheat or gangster. He's a playwright. The man writes words for a living. How terrible can he be?" She flicked her cigarette. "Now I know what's running through your head. But he's on the up and up. He knows people, Edward. People on Broadway. Influential people." She leaned to wave at Wyatt. "You have to meet him. Please do." She squeezed his hand, rocking up on her toes.
Edward sniffed, a vision of whisking her away to that candlelit table in the corner at the Liberty Tree disappearing like the juice in the joint. He could only hope for a raid to distract her.
"Edward?"
Instead of going to meet Wyatt, he led her toward the dance floor and the jaunty tempo, something he knew she couldn't resist. The music traveled up from the floors to the cast-aside chairs and the soulful dancers on wobbly legs.
"Let's dance." He twirled her, this woman who'd become irresistible like the illegal booze lingering on his tongue.
She angled her head at him, her eyes the sparkly green of a gin fizz. "Jazz makes fools of us all. Especially you."
"And here I thought you were the kind of girl who—"
She slinked away before he could finish, inviting him to watch her with a coy glance over her shoulder, parting the dense crowd with a raised slender arm all the way to the stage where the musicians were finishing their number.
He'd asked for it.
"You're wrong, whatever you thought! At least tonight. Tonight I'm whoever I need to be," she called, stepping onto the stage, the spotlight finding her, applause and catcalls reverberating around the dark club.
He shook his head, knowing she meant whoever Wyatt needed her to be.
The sax player's voice echoed over the microphone. "Ladies and gentleman, let's hear it for the lovely Ms. McCall."
Ah, the reason she'd come. Edward shouldn't have worried. He'd have preferred their party of two over this scene, but when she blew him a kiss from the stage, his chest swelled with confidence. He knew she was here to impress Wyatt, but that her thoughts were on him, and him alone. Edward smiled smugly, then he took the empty seat next to hers by Wyatt, focused on his sweetheart about to sing on stage, and draped his arm over the back of her chair.
"Rex Wyatt," the playwright said, cig dangling, holding out a hand over the table.
Edward let him hold it there for a beat too long before shaking it. "Stark. Edward."
"Say, that Audrey. How do ya know when she's for real?" Wyatt joked.
Edward smiled in her direction as her opening chords filled the air. Easy. When she lets you. But to Wyatt he said, "She's the real deal."
This excerpt published here courtesy of the author.
Click here for more information about I'm Yours…