Double Kiss: Stories, Poems & Essays on the Art of Billiards is a new anthology edited by Erie, PA poet Sean Thomas Dougherty and published by Dubois' PA's Mammoth Books (Antonio Vallone, publisher).

Contributors Deborah Bogen, Chad Burrall, Marc Neison, MarLa Sink Druzgal, Jesse Waters and editor Sean Thomas Dougherty will be reading for its release at White Whale Bookstore on Saturday, September 23rd at 7 PM. The reading will be hosted by Pittsburgh poet and curator Bob Walicki.

In anticipation of the Pittsburgh book launch, we asked the editor – Sean Thomas Dougherty – to tell us a little more about the Double Kiss…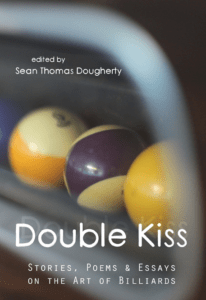 What Makes Double Kiss such a unique anthology?
There has never been an entire anthology across genre that asked contemporary writers to approach the sport of pool and the places it is played—not the tournaments and ESPN, but in the bars and social clubs, the smoky places out of the limelight, where even well into the 21st century it still thrives in all its minor glory and miscues. This anthology is the first book to do this.
How did you get the idea for the book?
Back in 2011 I started working part-time at Erie, PA's Gold Crown Billiards. I helped run the counter, cleaned the pool tables etc. And played. It's a great pool hall with a good staff, pro-size tables and a yearly professional tournament. I'd been playing pool league a couple years before that. Pool leagues are played in corner bars and social clubs. It blew my mind the number of people across professions who play in pool leagues or regularly play pool in these far-from-the-limelight places. I started to look for stories and poems about pool as I had started to write about it, too. But I realized there were very few literary books that dealt with the game in any manner. The late great Robert Byrne edited a great collection of stories. But there was never a book that also included essays and poetry about pool and billiards. I found that strange as a personally knew so many writers who played pool casually.
Is the work in Double Kiss only about pool?
No, the work is about all kinds of things, pool is often only the setup or the scene. Poems and stories about love and loss, death and life. This is a literary exploration of place and game, but often that place or game is simply leading us somewhere else, something to tell us about being alive.
How did you find the writers for the anthology?
Some of the writers were commissioned, most simply answered a widely distributed call for work. Other pieces were gathered through research. The poet Rebecca Schumejda actually owned a pool hall in upstate New York. We have National Book award winners and widely hailed writers such as Terrance Hayes, Dorianne Laux, Peter Makuck and Tim Seibles, beside some writers who are just starting to publish. With some of the pieces, I'd go over some ideas and say, how about this. The essay by Lisa Fay Coutley about playing alone came out of a conversation we were having. She said she always wanted to write that essay, so I said, please go write it and we'll get it published. And she did. Same with Patrick Werle's brutal essay. Sometimes to begin, the artist just needs to know there's a nurturing place for their work. The poem by Patrick Rosal also came about from a casual request we made. Patrick said he got some advice on the poem from his brother, who is an avid pool player. I hope I never have to play his brother. We're so happy to be able to give these important literary works a place to sing.
The book is dedicated to Cody Todd? Who was Cody Todd?
Cody is one of the poets in the book. He died last year at the age of 41 after complications from a surgery in Ithaca, NY. He was a good pool poet, a profoundly gifted poet, and one of the people early on who urged me to do this anthology. I still can't believe he is gone. I still go to write him or think, what is Cody up to, then realize he is no longer here.
What can people expect at the reading for Double Kiss?
They can expect to hear poems about people struggling in real and imagined places, eyeing through the blue light and smoke to make that last shot, whether into the corner pocket of the pool table, or the human heart.
Excerpt from Double Kiss: Stories, Poems, and Essays on the Art of Billiards (Mammoth Books, 2016):
Deborah Bogen
Pre-Destination
She needs a man, one who can drive an old Buick right out of the State, away from old pipes and the stench of sulfur, away from crickets swaggering across the linoleum and the fog of fish frying every night. She conjures perfume from the ink coming off movie magazines, learns to smile through the sting of Old Sunnybrook going down, then wanders into the pool hall, glowing under low hanging light, the room flush with railroad men drinking. She knows she needs one, a young one hot for the interstate, fat wheel of winnings stuffed in his jeans and sure as lightning rods bring down fire, one will come to her. Sure as God's in His Cadillac Heaven a boy will rise to her occasion. She's restless. Seventeen, she knows fate's a Buick that will take her to Montana or Wyoming. And what's love if not a road map, county line, new town kind of thing? It's 1945. She falls in love with gasoline.