Samuel Ligon is coming to Pittsburgh on Friday, October 7th! Ligon will be joining Robert Lopez, Ashley Cowger, Sherrie Flick, and the Haygood Paisleys for an evening of readings and music courtesy of Gist Street (co-sponsored by Autumn House Press). Seating is extremely limited and this event is reservation only — there will be no door sales, so we recommend ordering your tickets now!

Samuel Ligon is the author of two novels—Among the Dead and Dreaming and Safe in Heaven Dead—and two collections of stories, Wonderland, illustrated by Littsburgher Stephen Knezovich, and Drift and Swerve. His stories have appeared in Prairie Schooner, The New England Review, Post Road, Okey-Panky, Alaska Quarterly Review, Gulf Coast, New Orleans Review, and elsewhere. His essays appear in the Inlander. He's the editor of Willow Springs and the artistic director of the Port Townsend Writers' Conference. He teaches at Eastern Washington University in Spokane.

Start reading Wonderland ("[a]fantastic collection of stories… incandescent, absurd, wickedly funny and, in the end, achingly true." — Steve Almond) right here on Littsburgh!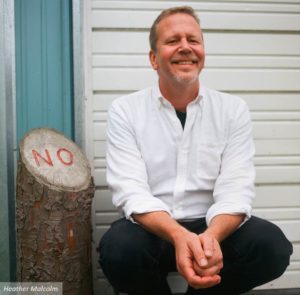 What comes to mind when you think of Pittsburgh?
Iron Gate Sandwiches.* My father and sister were born in Pittsburgh and when I was a kid, my mother made iron gates, allegedly taken from a restaurant in Pittsburgh of the same name. I still make that sandwich — a double decker, one layer BLT, one layer PB&J, and it's fucking fantastic. It sounds horrible, I know, but I'm telling you: It's fucking fantastic.
What books are on your nightstand?
The Art of Money Getting by PT Barnum and Converting the West: A Biography of Narcissa Whitman by Julie Roy Jeffrey.
Is there a book you'd like to see made into a film?
All of them.
Who would you most want to share a plate of pierogis with?
Since we're talking Pittsburgh, I'm thinking Mister Rogers, even though he's dead. But this is a dream plate of pierogis, right? So Mister Rogers and Stalin. Just for the tension. Just to see what Mister Rogers would say to such a rat bastard.
* Ed.: If you have any information about Iron Gate Sandwiches, shoot us a note!