Brad Thor is the #1 New York Times bestselling author of Foreign Agent, Code of Conduct, Act of War, Hidden Order, Black List, Full Black (one of Suspense Magazine's best political thrillers of 2011), The Athena Project, Foreign Influence (one of Suspense Magazine's best political thrillers of 2010), The Apostle, The Last Patriot (nominated best thriller of the year by the International Thriller Writers Association), The First Commandment, Takedown, Blowback (recognized as one of the "Top 100 Killer Thrillers of All Time" by NPR), State of the Union, Path of the Assassin, and The Lions of Lucerne.

Spanning the globe with over 11.5 million books in print, "America's favorite author" (KKTX), Thor has penned 17 thrillers featuring espionage and counterterrorism operative, Scot Harvath. The most recent of which, Use of Force, is on sale on June 27, 2017.

In addition to writing, Thor has lectured to law enforcement organizations on over-the-horizon/future threats and served as a member of the Department of Homeland Security's Analytic Red Cell Unit — an elite group of writers and artists commissioned to brainstorm terrorist scenarios for the U.S. government. "What I developed there stays there – that was the deal," Thor says. "That said, the ideas I come up with for my novels are created in the same way the scenarios for the Red Cell Program are."

Don't miss out: Mystery Lovers will be hosting Brad Thor at Oakmont Carnegie Library on July 12th!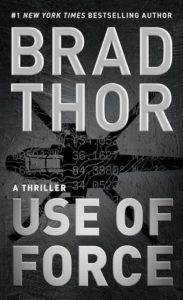 What comes to mind when you think of Pittsburgh?
Great sports teams, Kobold Watches, Gertrude Stein, and David McCullough.
What books are on your nightstand?
The Guns of August (Barbara W Tuchman), Tools of Titans (Tim Ferris), The Proper Study of Mankind (Isaiah Berlin), The Lost Order (Steve Berry), and The Seventh Plague (James Rollins).
Is there a book you'd like to see made into a film?
By the Rivers of Babylon (Nelson DeMille).
Who would you most want to share a plate of pierogis with?
As answering "Jessica Biel" might get me in trouble, I'm going with Sebastian Maniscalco because he cracks me (and my beautiful wife) up.